Hatch Stories | It Starts with Courage
In light of our rebranding efforts, we found it timely to concurrently publish our first-ever Impact Report, a document that intimately details the journey and growth we've been through. In navigating how the report should be like, we landed on anchoring courage as the central theme of our impact report. The trait itself comes and unfolds in different forms, as we've learnt to harness it in different ways through our evolution as a company.
This article was extracted and adapted from our 2021 Impact Report. If you would like to read the report at length, you can head over to our Impact Page to access it.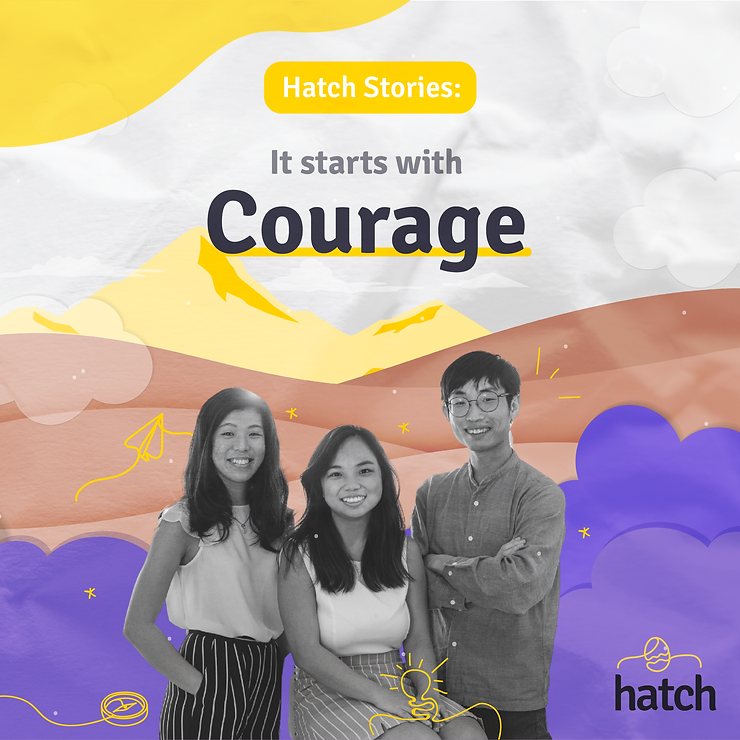 For the past month, we've been working hard to internally review our processes and impact since inception to date.
What birthed from this is our first impact report — "Courage to Be".
Whilst we embarked on our rebranding as a team, we realised we had bigger dreams than what represents our brand now. It's heartening to know the team has the courage to dream bigger and articulate these ambitions clearly. We must now grow our internal capabilities to reach these dreams.
In our first ever open publication, we write about what impact means and looks like to us. Our thoughts and emotions took time to gather and form into words, and we eventually settled on having courage as the central theme of our first impact report. Courage comes and unfolds in different forms. Here, we share four forms of courage we have come to meet on our journey — the courage to challenge, the courage to believe, the courage to dream, and the courage to be.
Courage to Challenge
By Victor Zhu
Co-founder and Chief Executive Officer
As a society, we talk a lot about exciting possibilities regarding ideas and opportunities, yet seem to reserve it only for the crème de la crème of people. Is this rooted in reason or have we just accepted it to be the case? For Li Ying, Wan Qing, and myself, that question was a rhetorical one. With a certain principle-driven conviction, we came together with the dream of making exciting careers accessible for anyone willing to work for them.
Back in the early days of Hatch (Can you spot our original logo?)
Hatch started out as an act of defiance — a challenge of sorts. We wanted to prove that the stigmatising labels often associated with individuals from difficult backgrounds don't define them, and that one's past circumstances bear little merit on future career potential. To us, that meant helping people from all walks of life discover their strengths, build skills, and enter jobs with good prospects and progression.
It should not matter if you are at a different starting point from others. What was clear to us from the onset was that we wanted to design services that can work for the masses. In particular, we were, and still are, against pricing quality education at a premium, having seen how it leaves tons of potential untapped in the majority who are unable to afford them. As idealistic as this sounds, we believed it was worth a shot, and started trying to create a better alternative to employability training.
Our first-ever Customised Immersive!
Our first pilot involved three young individuals who were turned away by would-be employers because of the labels they carried. In this pilot program, the students have each gone through different journeys in their growth, and emerged as confident young persons using the skills and experiences gained for the next stage of their lives. I think the three of them have, in their unique ways, given society reason to rethink its collective notion of human potential.
To me, courage comes not from our external symbols of success, but instead the validation and appreciation from the individuals and organisations we set out to serve.
Following our initial success, we began considering how we could run this training again, this time with a larger audience. The uncertainty and barriers to picking up skills for a good career actually apply to the ordinary folk who need, more than anything, the right support and environment to flourish.
Courage to Believe
By Choo Liying
Co-founder and Chief Operating Officer
We journey with learners and organisations at the intersections of skills, identity, and relevance in our work.
For our learners, things start with exploring their beliefs and identity, and how these tie in with their goals and aspirations. For our organisations, it starts with designating an endpoint, and navigating this path together with them. That, in itself, requires them to have faith as well.
It's not just about showing up, but following through
We see on a regular basis how much courage it takes to believe, similar to whether we believe the social mission of having accessible digital and design opportunities for everyone is within reach. We believe every one of us here at Hatch draws some form of personal connection to the work that we do, and takes heart in the impact generated from our various programs over the years.
But the systems of private education and opportunity inequality are enormous, and our operations thus far have barely scratched the surface of deeper, underlying systemic barriers we've been working hard to eliminate.
On that note, thankfully, we have realised systemic change need not come solely from work that specifically targets their mechanisms. Change can also come from groundwork with organisations and individuals, who are both part of and valued contributors towards the community.
Our community of learners from batch July 2020
The work required of Hatch appears to clearly intersect between two definitions of impact — we are working to create a space where diverse individuals can feel comfortable and bold.
As a whole, we nurture our learners' courage to work towards their dreams and flourish, whilst engaging with organisations to build their confidence in these new generations of learners.
Ultimately, we're setting a precedent for the unified direction of acceptance and equality in the future, and I hope that the journeys of these individuals and businesses will go on to inspire others as well.
Courage to Dream
By Yeoh Wan Qing
Co-founder and Chief Product Officer
The initial sense of defiance and injustice that drove us to start Hatch has since matured into a quiet commitment to make things work. And we believe the courage to dream is what pushes us to continually question the status quo and innovate. A common question I get from peers and partners alike, is "What makes you wake up to do the work that you do?" I would smile, as there are so many heartwarming stories to share! But these stories are microcosms of the overarching narratives that shape them. What I see hope in, is shifting narratives with the work that we do.
The root causes challenging our learners and clients have striking resemblances. What we came to realise and accept is that the playing field isn't equal, having been distorted by market forces and truths we have come to accept. We are all accomplices in perpetuating this.
Adapting to the many challenges ahead, including our first-ever Hybird Demo Day
Our fight to level the playing field is not with any specific individual or organisation. Instead, it's with the norms and institutions we have come to accept as a society. Our work in Hatch represents our attempts to rewrite these norms. And that is what is exciting to us.
There are good reasons for us to remain hopeful. The global changes we see today have brought about seismic economic and social shifts resulting from the global pandemic. A favorable outcome from that is more efforts are focused on supporting unemployed and underemployed people to make transitions into careers. There is also an apparent collective commitment from the government and stakeholders to ensure every person and organisation has the skills and opportunity to succeed in the digital economy.
The Courage that's Familiar
These three forms of courage are no strangers to us, and they collectively form the ethos of what we do. Whether it's working with individuals or organisations, the journey always starts with us believing in something that they can accomplish, a belief that often precedes the conviction they have in themselves.
Our impact ecosystem has made our journey possible
The actual journey involves us walking hand in hand to challenge widely accepted norms; each step incremental, but the full journey momentous. With each successful project, we ask — and dream, really — if the same incredible leaps can be better replicated, and for more to enjoy. Here, we speak in the hypothetical language of ideas, but we hope that by reading the report, you can see and relate to the incredible journey of individuals and organisations whom we have had the privilege to work with.
The Courage that's Novel
The fourth courage, for us, is still in its infancy. As a team, we always focused on making a direct impact on our learners and clients, and measured our value by what we've done and accomplished. However, we have realised not only the potential, but also the necessity of planting the seeds of indirect impact by authentically expressing our identity through our work.
The Hatch Team
This final courage materialises when we collaborate to build genuine connections and challenge difficult social narratives for the greater good. We want this report to further embody this bold expression of our mission and to be an open request to join us on this journey. We are unifying our communication and the dreams of what we can achieve. For that, we've also gained a powerful arsenal of vocabulary to describe our impact and what excites us in this digital movement. And it is with this conviction that we decided to put the fourth courage as the title of the report, serving both as a reminder to ourselves as well as a statement of what Hatch strives to achieve in terms of its impact.
We have come a long way from where we started.Sincerity, authenticity, and genuine desire to co-create are key factors that brought us to where we are today.
We wish to develop the social impact space such that more individuals will feel motivated to fight with us. Doing good isn't difficult, but we need to be more intentional in committing resources to make it happen.
It starts with courage, and we'll continue to require more of it. As such, there's so much that's possible if more of us can band together; come join us on our own Hatch journey.
This article was extracted and adapted from our 2021 Impact Report. If you would like to read the report at length, you can head over to our Impact Page to access it.
Interested to navigate and create impact together with Hatch?
We are always on the lookout for people who are hungry to create a more empathetic and equitable future of work and education. If our mission resonates with you, drop us an email at Careers@hatch.sg!