We're looking for an Ambitious Senior IT Project Manager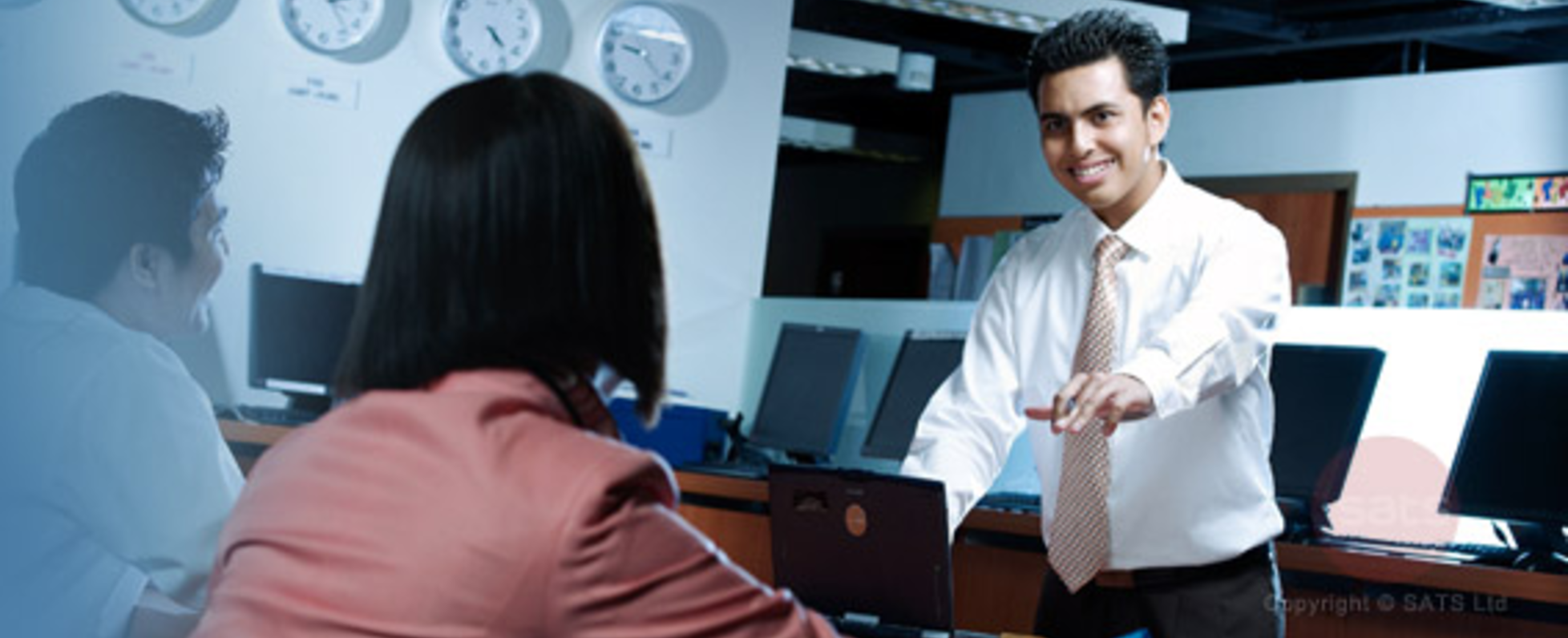 Shing Chiek Eng
Business (Finance, HR etc.)
SATS is Asia's leading food solutions and gateway services company.
We operate state-of-the-art facilities to provide food solutions, as well as comprehensive gateway services across the region.
That means whenever you board a flight at Changi Airport, we are there to make sure you have a pleasant check-in, a smooth transit, and a delightful meal on-board.
We connect people at the very pivot of modern globalization.
Our passion to bring the best to every individual customer is what has driven the expansion of our business lines, to include the finest of food offerings as well as an extended set of services that brings them the benefit of our speed, quality and absolute reliability.
Today, we have more than 10,000 members in our team - and every single one of them puts their heart and soul into ensuring that our service runs smoothly 24/7. If you want to be a part of this big family, be prepared to solve immense logistical challenges.
We put a lot of effort in creating a friendly, stimulating working environment - where everyone is empowered to make improvements for their own personal development as much as for the growth of the business, and where people treat each other with respect.
We also believe in investing in our people and developing them to their fullest potential. When you become a member of SATS, you are more than just one of many. If you grow, the whole team can benefit. We make sure to give you plenty of opportunity to learn, expand your horizon and be proud of your achievements.
Responsibilities
-------------------
Reporting to the AVP, Technology, you will be supporting the needs of both Passenger Services and Apron Services in the following areas:
• Identify, propose and manage end-to-end implementations of technology solutions (i.e. new systems, enhancements to existing systems, technologies, etc) to meet strategic and operational needs
o Identify and analyze business issues/problems, scope, stakeholders, budget, etc
o Engage in business process improvement/re-engineering, mapping of As-Is & To-Be processes, translating business requirements into functional requirements
o Convey and clarify requirements with 3rd party vendors, review their solution proposal/SOW to ensure business/functional requirements are met and addressed
o Review cost benefit analysis, define and measure Key Performance Indicators with the end users where required, and provide alternative and more cost-effective solutions where possible and required
o Lead and participate in design specifications and prototype workshops, and coordinate the user acceptance test, user training, user change management, pre-implementation preparation and post-implementation support activities
o Conduct RFP (Request for Proposal), RFQ (Request for Quotation) or RFI (Request for information) exercises, including preparation and definition of specifications, and evaluation, award approval process, and contract finalisations
o Ensure IT projects are delivered within approved schedule and budget, adhering to IT Project Management framework, properly handed over to the support team (i.e. onboarded application criticality defined with corresponding DR, etc), BCP are developed with end users and ensuring that the delivered system meets all business' needs
• Provide IT support and engage in other IT support related activities
o Assist in incident management to ensure all parties (Business units, Infrastructure, Data Centre vendors, Application and Hardware Vendors, Management) are aligned, coordinated and communicated
o Support and assist in the change management process, raising/endorsing Request for change (RFC), seek approval at Change Advisory Board (CAB), communication and facilitation
o Engage in annual IT plan/master plan exercise to identify, collate, review and prioritize projects with the business units for the Financial Year. Prepare and report on past FY IT project statuses/statistics
o Assist with business units' IT requests and queries, coordinating with other internal support teams where required
• Stakeholder Management
o Work in a team to act as the single point of contact (SPOC) for respective business units on all IT, Technology and related matters, liaising and coordinating with other supporting teams
o Manage stakeholders, ensuring timely and accurate communication to address their issues, queries, requests and to keep them updated on related IT matters (projects, support activities, etc)


Requirements
-----------------
• Bachelor Degree in System information, Computer Science, or equivalent Information Technology disciplines
• At least 10 years of Business and / or Systems Analyst and IT Project Management experiences
• Possess analytical, systems analysis and solutioning skills
• Resourceful, creative, takes initiatives and responsible
• Strong in written and communication skills
• Able to work independently and also cohesively in a team
• Prior supervisory experience in managing a team
• Demonstrated ability to interact and work effectively across functional teams and at multiple levels within the organization
• Highly organized and possesses ability to manage multiple projects or tasks concurrently
• Possessing the following capabilities and experiences would be an added advantage
o LEAN, Six-Sigma, Business Process Improvement/Re-engineering, process mappings
o Certified Business Analyst, PMP, CITPM or equivalent certifications
o Prior experience in Aviation industry
o Hands-on experiences managing IT projects with value of at least $500k and/or for a duration of at least 6 months
---------------------
If you want to do meaningful work and grow within an excellent team, click "Want to Visit" and come talk to us now!
Basic info
Looking for
Engineer/programmer
Job type
Full-time
Special features
Available to talk on Skype / Foreign nationalities welcome / Free snacks/lunch
Company info
Founder
Ms. Euleen Goh (Chairman), Mr. Alex Hungate (President and CEO)
Headcount
13000 members
Industries
Foods / Beverages / Logistics / Transportation
20 Airport Boulevard, Inflight Catering Centre 1, Singapore 819659