Be our next Cedele star! Join us for a walk-in session!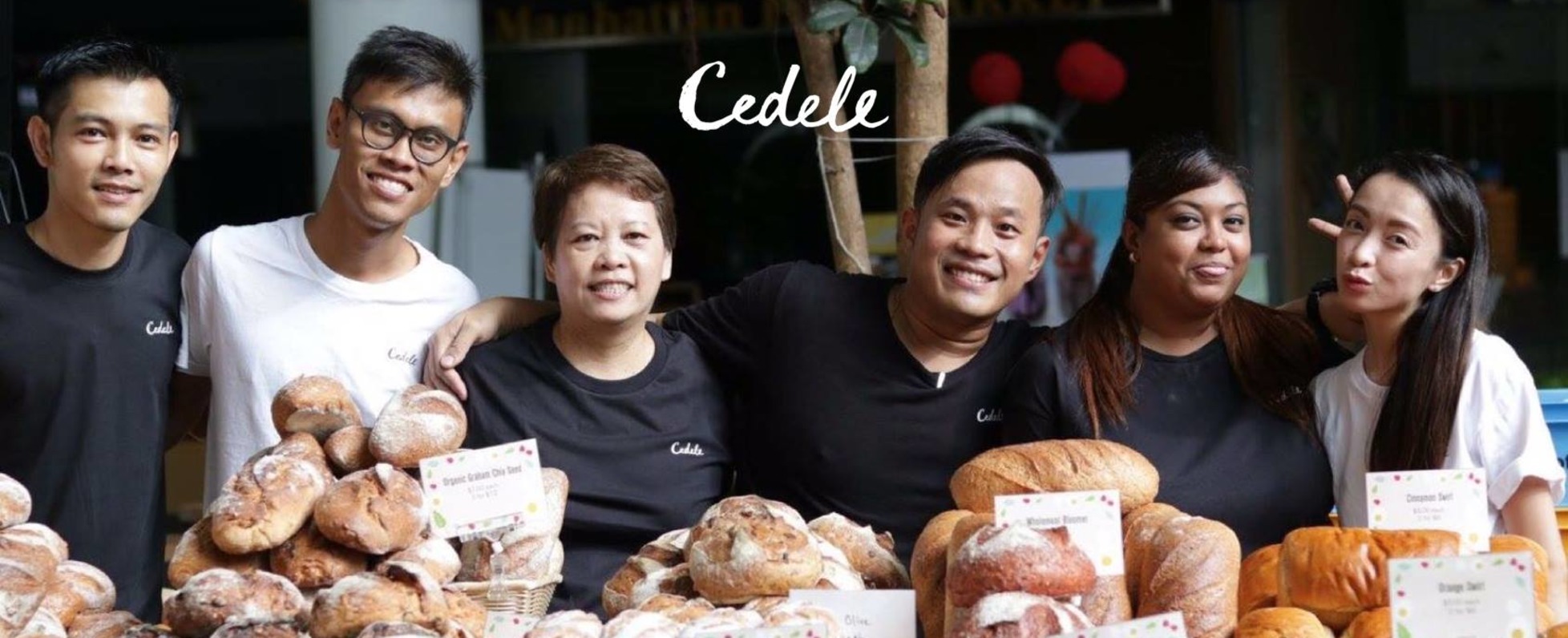 "To us, food is passion; food is love." - Cedele Founder, Ms Yeap Cheng Guat
Starting as a small bakery in 1997, Cedele by Bakery Depot has grown to be a destination for deliciously nutritious food. Yet what truly sets Cedele apart is the care we put in for the well-being of our customers: we recognize the importance of food for physical nourishment but we also strive to design our meals so that you can eat well and be well.
Beyond Cedele, Bakery Depot also champions deliciously nutritious food with our other brands:
1. CHIAK
A showcase of our desire for a connection to our food identity and roots, to embrace and elevate tradition for generations to come. We keep ideas fresh whilst serving real food that comforts you like home. At Chiak we embrace and challenge all things traditional – especially our coffee.
2. TOSS & TURN: THE SALAD BAR
Love greens? We are passionate about bringing you health-savvy gourmet food. At Toss & Turn, we love our greens. We practically live, breathe, and think salad. We're all about healthy, happy food and turning our greens into your grins.
3. WORKSPACE EXPRESSO BAR
We aim to be a destination of refuge for the busy business professional - where you can come and find a safe place to take a breather and to be nourished both emotionally and physically. Our coffee served is a signature roast that is single origin and seasonal - thoughtfully and carefully sourced.
Cedele was formed with a clear objective in mind – to serve our customers healthy, high-quality food. Our vision is to be the platform that bring the change we wish to see: To enlighten our customers about the food they consume, and empower them to make the choice to eat better better food, and at more accessible prices. We aim to start a movement to instil change in our society to eat better.
We launched our first bakery café in 1999 to extend our reach into the Central Business District of Singapore, serving hearty soups with gluten-free options, fresh crunchy salads, and delectable sandwiches. Today, Cedele spans multiple outlets all across Singapore, showcasing our passion for creative takes on classic delicacies. By advocating an 'Eat Well Be Well' food philosophy, stemming from our Founder, Yeap Cheng Guat's belief: that eating well is essential to one's well-being, we created a niche for the Cedele brand in the Singapore market.
The core value of our food products centers on natural taste made from wholesome, healthy ingredients. We incorporate creative flair into classic techniques, and introduce modern flavours into traditional recipes to bring about a cross-cultural culinary tour de force. With the utmost dedication to quality and taste, we whip up well-balanced, delicious and nutritious creations made from scratch using natural healthy ingredients and time-honoured artisan methods. Our principled approach means we renounce the use of artificial additives and trans fats, carefully selecting each and every ingredient for its nutritional richness and exceptional flavour. We truly believe in our motto of "Eat Well, Be Well."
This guiding principle ensures that only the most honest, rigorously tested, natural methods are used in the production of the foods that we serve to our customers. The Cedele difference lies in 2 core areas:
1. Nutritionally delicious food – we create foods that achieve the best balance of taste and nutritional value, using fresh, natural and healthy ingredients.
2. Artisanal skills – our food hand-made from scratch using traditional time-honoured methods. As well as its baked good categories, it also applies in all food categories including soups, sauces and dressings.
BE OUR NEXT CEDELE STAR!
Outlet Positions available:
1) Cafe Associate (FT/PT)
2) Service Leader
3) Steward
4) Service Cook
HQ Positions available:
1) Finance Manager
2) Assistant Marketing Manager
3) E-commerce/Business Manager
4) Catering Executive
5) Purchasing Executive
6) Accounts Payable Executive
Join us for a walk-in interview!
7th March (Tues), 3pm - 6pm:
- Cedele Wheelock Place (501 Orchard Road, #03-14)
- Cedele Novena Square (238 Thomson Road, #01-01)
10th March (Fri), 3pm - 6pm:
- Toss and Turn Ion (2 Orchard Turn, #B4-55)
- Cedele Ocean Financial Centre (10 Collyer Quay, #B1-06)
14th March (Tues), 3pm - 6pm:
- Cedele Wheelock Place (501 Orchard Road, #03-14)
- Cedele Suntec City (3 Temasek Boulevard, Suntec City Mall North Wing, #01-430
16th March (Thurs), 3pm - 6pm:
- Toss and Turn Ion (2 Orchard Turn, #B4-55)
- Cedele White Sands (1 Pasir Ris Central Street 3, White Sands Shopping Centre, #01-39
Bring along a friend with you! See you there! :)
Basic info
Looking for
Other
Job type
Internship/part-time / Part-time / Full-time / Freelance
Special features
Come visit with friends
Company info
Industries
Foods / Beverages / Restaurants / Food Services