Coding 101, HTML/CSS Workshop -All Beginners are Welcome!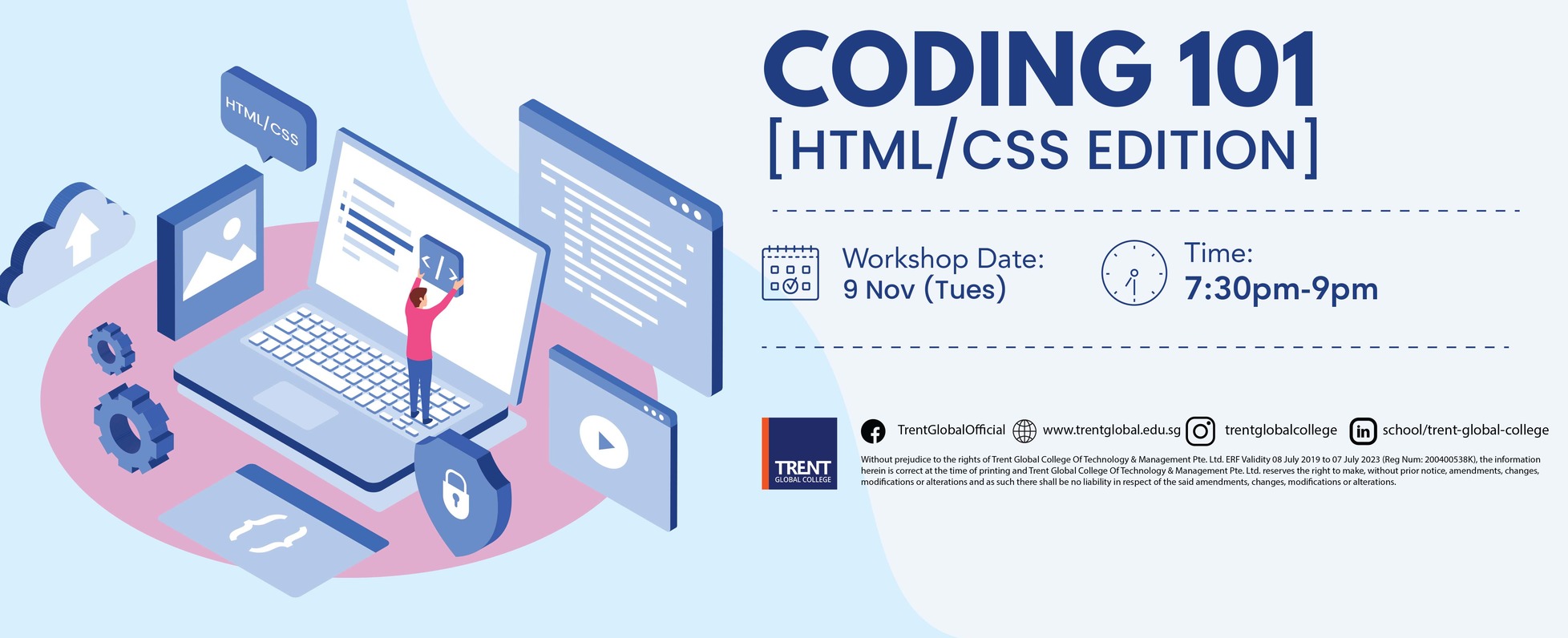 Meetup
2021.Nov.09
Tue
19:30 ~
at Trent Global College of Technology & Management - Online meetup
Marcus Tay
Sales

Business Development Manager at Trent Global College

Up to 2 years of experience in management of social communities, design, events and public relations.

I enjoy watching k-dramas, exercising and photography during my free time.
Programming is a skill that can enhance anyone's competency regardless of industry or background. So why not give it a shot?
About this event
"Who told you it was too late? And more importantly, why did you choose to believe them?" - Richelle E. Goodrich
Time flies and before you know it, we are in the last quarter of 2021. Don't fret, because it's never too late to start learning something new, so why not try coding?
Take your first step in your learning journey with our HTML/CSS workshop! Say goodbye to the bad vibes of the on-going pandemic by learning how to code your first program in just 1.5 hours!
In this introductory workshop, we will explore the fundamental blocks of web building through HTML and CSS. During the 1.5 hours, you will learn key programming principles required to build your very own web page.
TO PREPARE FOR WORKSHOP:
- Your trusty laptop
- Notebook, to take down notes (if you need to)!
- Sign up for an account here: https://codepen.io/
Workshop Flow
- 7:30pm - 7:35pm: Welcome Address
- 7:35pm - 8:35pm: Hands-On Website Creation
- 8:35pm - 9:00pm: Q&A and closing
Instructor Profile
Automation Engineer | Bootcamp Graduate 2020
Arif started off as a Therapy Asisstant (Occupational Therapy) before he made the bold move to make a career switch with Trent Global's Software Development Bootcamp towards the end of 2019. Upon making his tech career switch, he continued to help others in learning to code, accumulating experience as a teaching assistant and conducting front-end development and python workshops.
Coding 101, HTML/CSS Workshop -All Beginners are Welcome!