📢 Employment Reimagined Workshop 2 "Cold Jobs, Hot Careers!" Is Now An Individual Consultation Session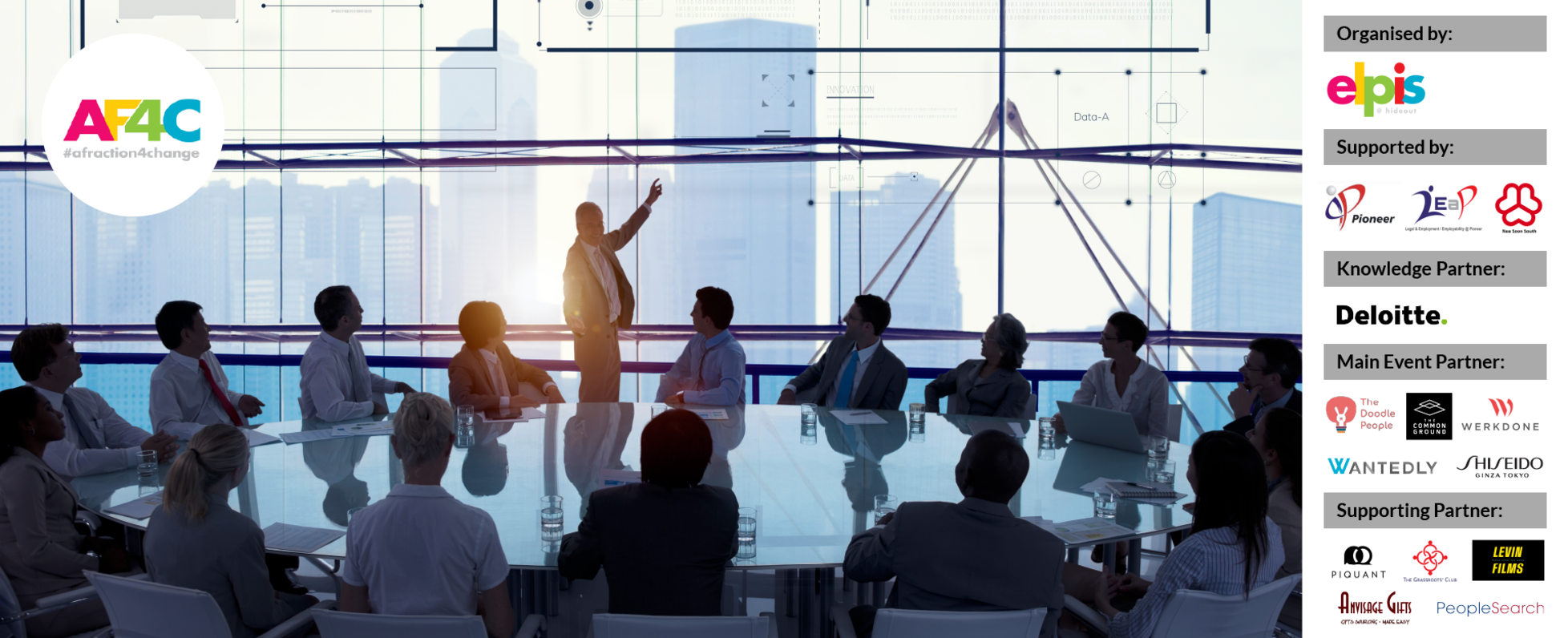 Meetup
2021.May.06
Thu
08:30 ~
at Frontier Community Club, 60 Jurong West Central 3, #01-01, Jurong West Community Building, S(648346)
Germaine is a game changer at forging strategic connections that impact individuals and organizations. Prior to starting ELPIS@Hideout, Germaine held key positions in the MICE, FMCG & Retail and Human capital resourcing industries and she is key in driving business development, strategic partner...

"天生我才必有用"
Uncover Your Talent, Drives it with Passion, It will Change Lives - Yours & Others

Lily is a maestro in the media industry which sees an impressive career of 17 years at Singapore's media stronghold, MediaCorp. Her knowledge of the media industry is a comprehensive coverage of print,...
📢 REASSESS TO REALIGN
📢 EMPLOYMENT REIMAGINED IS NOW AN INDIVIDUAL CONSULTATION SESSION
Given the recent unexpected turn of events following the increase of community cases of COVID-19, the Employment Reimagined Team decided to cancel on-site Workshop 2. We are turning the workshop into a 1-on-1 Employment Consultation Session (by appointment only).
📢 APPOINTMENT: Pls click "I am Interested" or "Reply" and write to us.
📢APPOINTMENT DATE: 11 May to 14 May, TIME: 10am to 5pm, VENUE: The Common Ground @ MacPherson
*****************************************************************************
Education & Information are key to reimagining employment in the New Normal. Change is our new reality and our event, AF4C - Employment Reimagined, which will be onsite and virtual, will provide real time connection and education for all who attend.
This inaugural event will lead jobseekers onto new and viable options, which will give them an opportunity at greater success in their job search or job switch. We will be bringing together the entire employment ecosystem for this purpose.
Join Us!
* The 1st 3000 to register stands a chance to get a FREE Sports Bluetooth Earpiece. Instructions to redeem will be sent out after registration. T&Cs apply.
~ WORKSHOP 2 ~
This workshop addresses the need to relook at the 'Cold Jobs' that are available for the taking but are just not taken. We will cover the trends and industries where the 'Cold Jobs' are and tell you why they are 'Hot Career'. Sometimes it is as simple as a change in perspectives.
DATE : 6 May 2021 (Thur)
TIME : 8.30am to 1.00pm
VENUE : Frontier Community Club @ 60 Jurong West Central 3, #01-01, Jurong West Community Building, Singapore 648346. (Nearest MRT station: Boon Lay)
EVENT TYPE : Physical / on-site
PROGRAM
8.30am - 9.00am
Registration
9.00am - 9.15am
Opening Address by Guest of Honour
MP of Pioneer SMC, Mr Patrick Tay
9.15am - 9.45am
The Future of Work
Deloitte Consulting SEA, Senior Manager, Mr Daniel O'Keeffe O'Donovan
9.45am - 10.15am
From Cold Jobs To Hot Careers – The First Step
Quilt.AI, CEO, Mr Anurag Banerjee
10.15am - 11.00am
ICT Presentation
Sparkline, HR & Education Director, Ms Sarah Rebello
11.00am - 11.15am
Break
11.15am - 12.00pm
Industry 4.0 – What Is This And How Can You Position Yourself In This Revolution
NTUC LearningHub, Head of ICT Division, Mr Isa Nasser
12.00pm - 12.45pm
Traineeship Opportunities For Mid Career Switch (You'll want to know this!)
Vision Advisory Management Pte Ltd, Senior Partner, Ms Cynthia Wee
* The 1st 3000 to register stands a chance to get a FREE Sports Bluetooth Earpiece. Instructions to redeem will be sent out after registration. T&Cs apply.
※※※※※※※※※※※※※※※
All the best & Stay Safe !
Location
Frontier Community Club, 60 Jurong West Central 3, #01-01, Jurong West Community Building, S(648346)
📢 Employment Reimagined Workshop 2 "Cold Jobs, Hot Careers!" Is Now An Individual Consultation Session
2021.May.06
Thu
08:30 ~
at Frontier Community Club, 60 Jurong West Central 3, #01-01, Jurong West Community Building, S(648346)