An Open Evening With Trent Global - Python Workshop and More!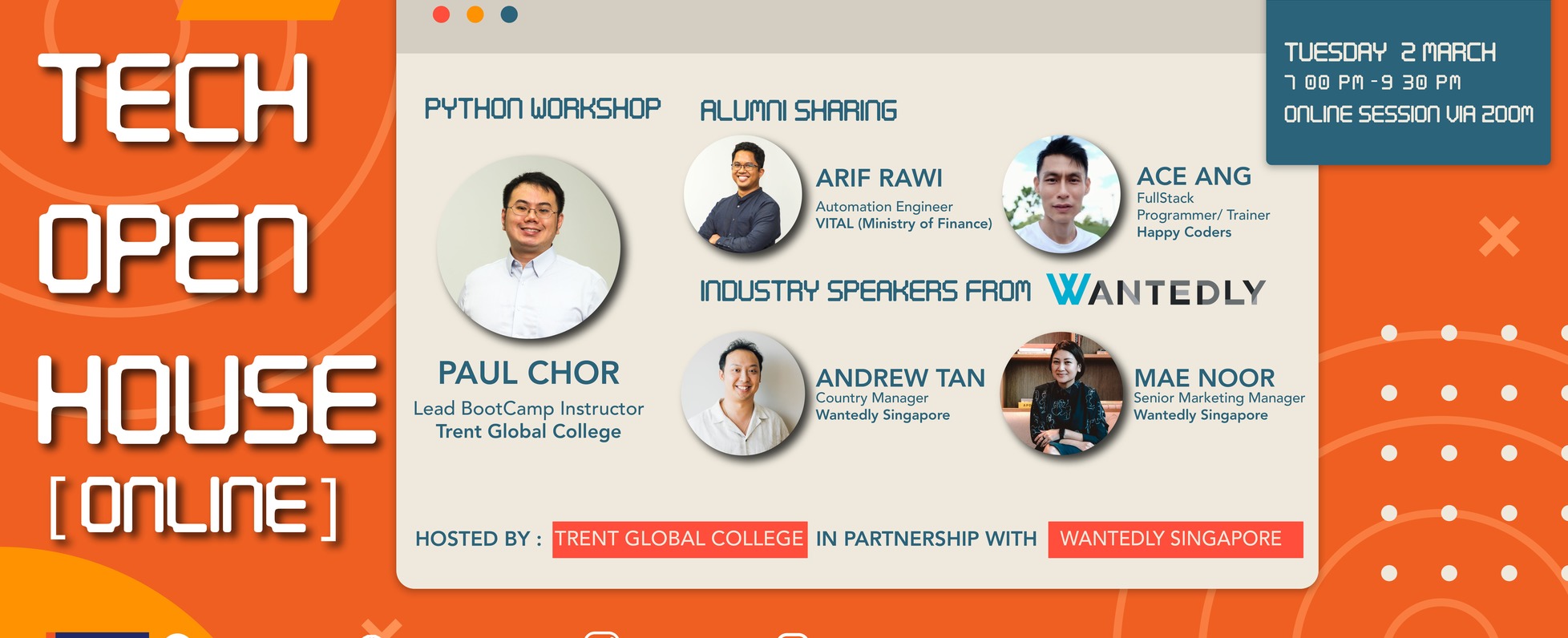 Meetup
2021.Mar.02
Tue
19:00 ~
at Trent Global College of Technology & Management - Online meetup
Marcus Tay
Sales

Aldo Lee Fernandez
Sales

Up to 2 years of experience in management of social communities, design, events and public relations.

I enjoy watching k-dramas, exercising and photography during my free time.
Free python workshop, career talks and Q&A's with our graduates, the perfect combo to discover your next career as a developer.
We're setting the stage on the 2nd of March, mark your calendars.
For the first time since COVID-19 has afflicted us, we will be hosting an open evening to hear more about our Software Development Bootcamp.
What's happening at this Open Evening?
Intro to Python Programming
We'll be having a free intro class conducted by our Lead Instructor of the programme, Paul! Get your first taste of Python programming and experience what your first lesson in class could be like.
Talk to our past Graduates!
Don't take our word for it, hear from the likes of Ace and Arif, graduates of the programme who have since kickstarted their careers as developers. Ask them about their experiences in the programme, the process of finding a job and any other burning questions you might have about taking a coding bootcamp.
Featuring special guests from: Wantedly!
Andrew Tan, Country Manager of Wantedly Singapore
Mae Noor- Senior Marketing Manager, Wantedly Singapore
In a looming pandemic, what does the job market look like? Hear from our partners at Wantedly about how the trends in hiring developers has shifted, how they help our graduates in finding their new careers and how you can set yourself up for a successful career in 2021.
Programme Flow
7.00pm – 7.10pm Welcome Address
7.10pm – 8.10pm Introduction to Python with Paul
8.10pm – 8.50pm Industry Insight with Wantedly (Andrew and Mae)
8:50pm – 9:20pm Q & A with our Graduates
9:20pm- 9:30pm Closing
Speaker Profiles:
Mr. Chor Kun Xin, Paul
Lead Instructor, Code Institute Program in Singapore
A veteran software developer with more than 10 years of experience in software development (frontend and backend), Paul developed a passion for teaching programming lecturing part-time at Ngee Ann Polytechnic. His prior teaching experience includes imparting programming knowledge at the polytechnic level, infusing passion to students in the area of programming, full-stack development and mobile app development.
An Open Evening With Trent Global - Python Workshop and More!