Do you want to be a good recruiter?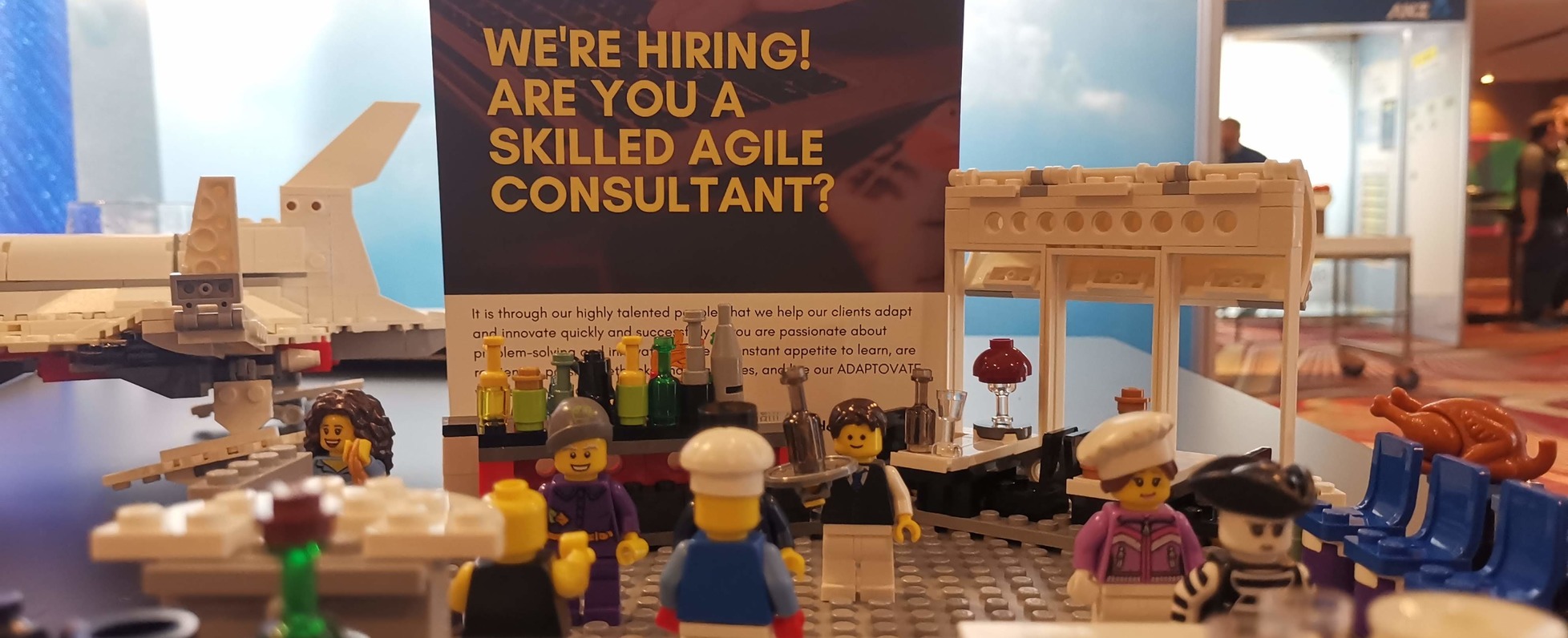 Simmy Li
Business (Finance, HR etc.)
ADAPTOVATE helps organisations transform at scale to meet changing market conditions and increasingly sophisticated customer demands. We believe that in order to win in challenging environments, companies need to continuously adapt and innovate. We partner with our clients to embed new ways of working supported by cultural change, to deliver sustained success. We have successfully delivered Agile at Scale transformations in large organisations, in individual business units, and start-ups. With a proven track record across multiple industries, our team is ready to assist you on your journey towards greater agility. We measure our success against your success.
We believe that in order to win in the more and more challenging environment of start-ups, technology leaps and ever-changing customer demands, companies need to transform to be able to continuously adapt and innovate. The game is no longer about a single idea to disrupt your company's business model, but about ways to systematically change the way of working and delivering products and services to customers.
The Adaptovate model is based on an end-to-end approach to design, implementation and assurance of your company's transformation programs, while at the same time embedding agility and innovation practices. This includes the set-up and running of tailored start-up accelerators, innovation labs and boot camps that will support your transformation and will help your company win in tomorrow's market. To achieve this we rely on our network of professionals that have a proven track record across large and complex transformations across multiple industries as well as a network of agile experts, entrepreneurs and start-ups.
Are you a person who love engaging with people around you?
ADAPTOVATE is agile transformation company started by three ex-BCG consultants in Australia. We partner with BCG as specialist Agile Business coaches and consultants on BCG cases globally. As ADAPTOVATE grows, the development of our consulting team is crucial to our success, and we are looking for an energetic recruiter to join the hiring team. We need the help of a person interested in connecting with people and building a strong network of consulting contacts.
WHY ADAPTOVATE
- We want to be the best in the World in Agile and other innovative organizational management methods
- We have a very strong global partner, BCG, and our Partners are ex-BCG consultants
- We already have established a presence in Australia (offices in Sydney and Melbourne) and Singapore, and we are now opening offices in Warsaw, New York and Los Angeles
WHAT WE OFFER
- Start-up environment where you can deliver immediate impact
- 90-day training program
- Immediate international exposure
WHAT WE EXPECT
- Recruitment as a career
- Experience in recruiting and/or sales and/or admin
- Positive mindset, empathy and you enjoy engaging with people
IF YOU HAVE
- 5 years of Experience in recruiting management consultant or Agile Coach
- A positive attitude and unstoppable work ethic
- The ability to take feedback like a champ
- Excellent communication skills
- Strong organizational, administrative skills and eye for details
- The ability to work independently as well as part of a global, cross-regional teams
- The ability to speak multiple languages, that will be an advantage
- The desire to help people to pursue a greater career whilst building a consulting firm, culture and community where we all love to work
YOU WILL NEED TO BE
- The face of ADAPTOVATE to potential candidates
- Excited by the thought of doubling a company's headcount
- Tenacious in pursuing brilliant candidates until the point of contract signing
- Looking to make a difference and be heard
- Have an open mind to learn
- Excited to interact with foreign candidates in their home locations
- Able to speak fluent English
- Able to speak Mandarin will be a Bonus factor
Singaporean or PR is preferred.
Thinks this sounds like you? Click on "Want to Visit" Now!
Basic info
Looking for
Talent Scout
Job type
Full-time
Company info
Industries
Consulting / Survey
3, #17/18 Temasek Ave, Centennial Tower, 039190