Are you looking for an opportunity to enhance your career? Sales Manager Trainee WANTED!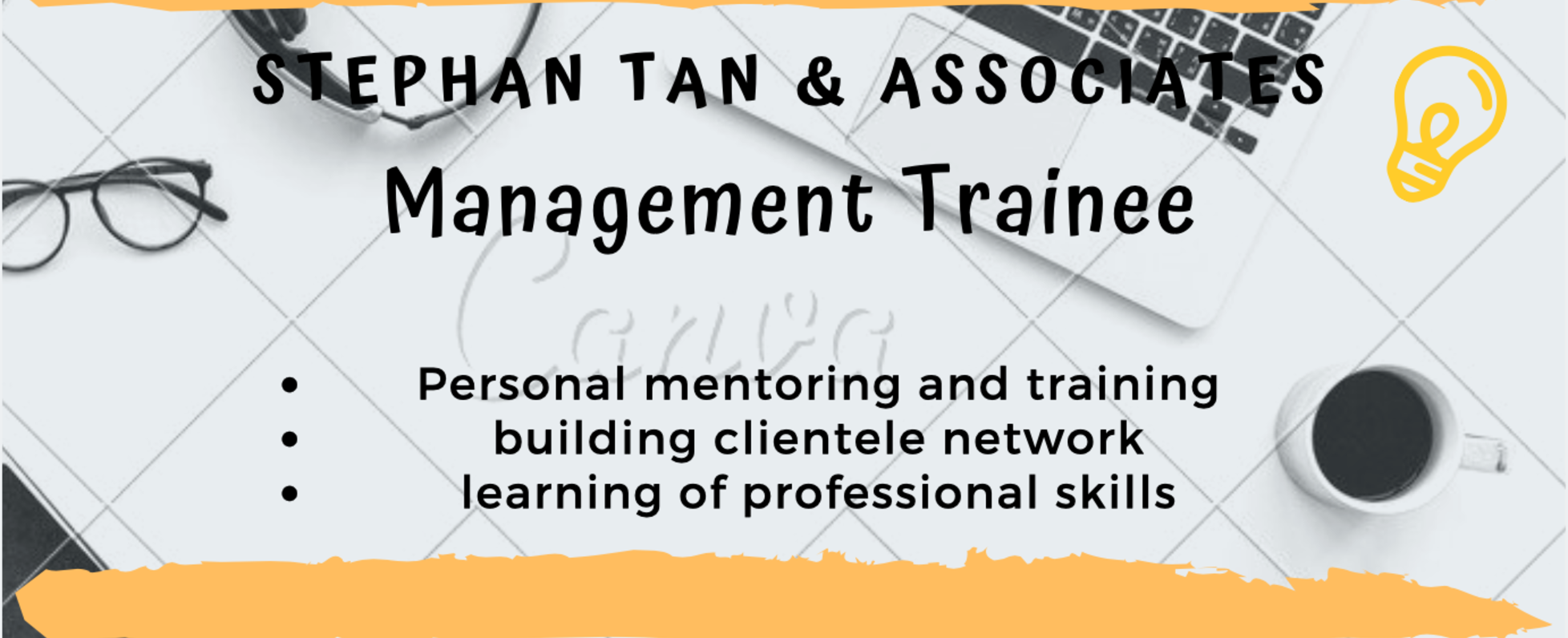 Stephan Tan
Business (Finance, HR etc.)
With over 3 decades of consulting experiences,MSG Frontier Consultancy is an organization which provides quality solutions in areas of wealth accumulation and risks management.
We strive to exceed clients' expectation by understanding their needs and wants through face-to-face discussion.
What Makes Our Company Product or Service Special?
Our services and products are tailored specific to the demography of individuals,families,enterprise and international clients, be it in futures protection savings or business planning.
Clients will be provided with bi-annual progress report.
Medical concierge services are also made available exclusively for existing clients.
Company's Vision:
We help each other to be successful in our business and treat all members with love and respect.
Philosophy:
Our philosophy behind the company vision is to encourage members to learn and grow through continuous progressive courses,improving their main role of client-consultant relationships to achieve excellent results.
Our team members are motivated and driven towards this vision,not only for professional excellence but also to develop lifelong interpersonal skills.
Company culture:
With a good mix of local and foreign talents within our team,some of our team members are entry-level while others transition from different careers.We come together as one,with no judgements or discrimination among each other but only one goal in mind - We strive to work smart and diligently with improved overall clients' satisfaction experience while maintaining a work-life balance.
Job Description
You will be an important part of an organization that implements quality solutions and services for clients in achieving their needs and expectations.
The Role:
As a sales manager trainee, you will be responsible for aiding in the following areas:
including building and maintaining an exceptional relationship with every client, analyzing client's information and recommend the right solution for client's portfolio. You will also be constantly learning new skillset and self-development to apply into field work accordingly.
Why US?
We have an attractive remuneration package of basic and commission (excluding bonus and incentives) and provide development opportunities to develop your career while having flexible working hours by having you to take charge of your own working schedule and progression. To further assist you in achieving your best performance, personal mentoring and training will be provided.
Applicants should:
• Be at least 21 years old (regulatory requirement)
• Potential Candidates must possess at least a local Polytechnic diploma or equivalent academic qualifications
• Display a strong desire in sales and service industry
• Confident in face-to-face communication
• Singaporeans only
• No prior experience is required
Apply today
If you are interested and fits what we are looking for, kindly apply with your resume.
Basic info
Looking for
Sales
Job type
Full-time