Healthy Lifestyle = Greater Success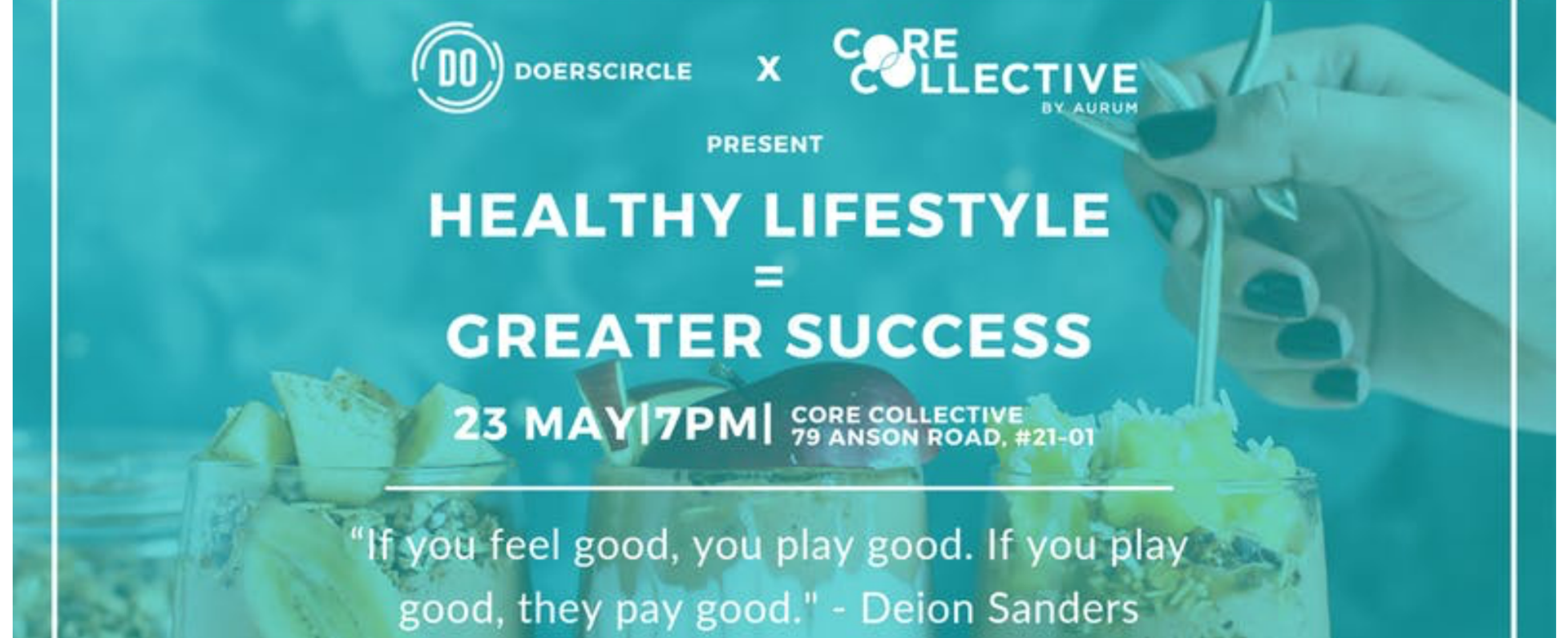 Meetup
2019.May.23
Thu
19:00 ~
at Core Collective 79 Anson Road ##21-01, #22-01 Singapore, 079906
No description available.
Being an Entrepreneur or being involved with the early stage Start Up can be super hectic. Especially when you start to raise money and at the same time you need to keep your business operational and you have social commitments. Obligations, lack of resources, ambition and commitment all ingredients which could lead to stressful situations long-term. We at Doerscircle been there: thinking stress will go away when things are settle down... Well wake-up! Nothing will ever settle building up your business, but there are ways to ease things. One of those things is to adapt a healthy lifestyle. Staying healthy can help you stay disciplined, improve your productivity and of course, keep you alive longer -- facts most successful entrepreneurs DO realise.
We like to compare the entrepreneurial journey with the journey of an athlete: it is all about performance, setting goals, focus and structure. One thing we can learn from athletes is the way they structure their lives by adapting a balanced program between performing (training and tournaments) and recovery (rest, food and relaxation). Our panel will be discussing how a healthy lifestyle impacts the performance of an entrepreneur.
We will discuss topics as: What can we learn from athletes? How does working out impact mental health? What is a healthy lifestyle? How do I know how healthy I live? What has food to do with performance? And obviously we want you to walk away with tips and tools to get started!
ABOUT THE PANEL
BEATA JUSTKOWIAK - Sport Psychologist & Life Coach
Beata Justkowiak is an ex-athlete, qualified Psychologist, and passionate Life Coach addicted to colourful smoothies and dark chocolate. She lives to make change happen, and helps others find their own way of managing life's challenges.
The best results, in a long term, we get from connecting body and mind. Allow me to guide your mind to work together with your body, be synchronized despite the tiredness, pain, limitations or everyday life excuses.
ELIKA TASKER - owner of Kitchen by Food Rebel & Health Coach
Elika became a health coach following frustration of years of yo yo dieting & lack of nutritional support available from personal trainers she had used.
As a Health Coach she works with individuals & companies and provides the truth about nutrition enabling healthier lifestyles through coaching, consulting & access to exciting healthy food.
As the owner of Kitchen by Food Rebel and a certified Raw Food Chef, the cafes mission is to improve their customers health through a recipe of awareness, education & great food.
FRANCESCO GATTI - Head of Firstbeat Lifestyle Assessment by Actxa
Francesco is a health advocate and passionate about performance enhancing lifestyle interventions. Francesco has solid experience in the health-tech industry and proven track record of business success, having helped 2 start-ups grow to become market leaders till acquisition. He is also a qualified teacher, journalist and counsellor and has worked as a CPD trainer and public speaker for several years, including presenting at international conferences.
EVAN BUTTON - Personal Trainer
"People say that 'getting in shape' is 80% diet and 20% training. If you want to put your intended lifestyle into percentages; It's 100% diet, 100% training, 100% advantage of sleep and 100% stress awareness - at least 90% of the time with 0% excuses."
Evan comes from an athletic background, from playing NCAA Division I college baseball at the University of Mississippi, to six years of professional baseball throughout the United States, and now competitive men's league ice hockey in Singapore. With the knowledge and experience from elite level athletics and years of training, he focuses his technique on what's important: proper movement and expression of strength within each individual's increasing ability while keeping a narrow focus on diet, breath, and self-massage in the process of recovery.
JAMES YEO - Performance Nutritionist
With a niche in weight management and sports performance, James empowers different individuals, including competitive athletes, salespeople, and busy business owners to achieve their fitness goals in the most successful and sustainable way possible.
Holding multiple qualifications from both exercise science and nutrition, James links both exercise and nutrition together to a paint a fuller picture on how to better measure and manage your health, fitness, and nutrition to reach out to your goals.
James also holds rich experiences in both the exercise and performance nutrition industry. His experience includes sports coaching, personal training and was even a sports scientist for a well-known government corporation.
Moderated by Doerscircle's founder: Helle Priess, former Danish national badminton athlete and the first foreign badminton player who trained with the Chinese National Team in Beijing.
Location
Core Collective 79 Anson Road ##21-01, #22-01 Singapore, 079906
Company info
Doerscircle
Founded on 2017/08
4 members
46 Blair Road, Singapore
Healthy Lifestyle = Greater Success
2019.May.23
Thu
19:00 ~
at Core Collective 79 Anson Road ##21-01, #22-01 Singapore, 079906