Build the perfect dreamy candy house with us !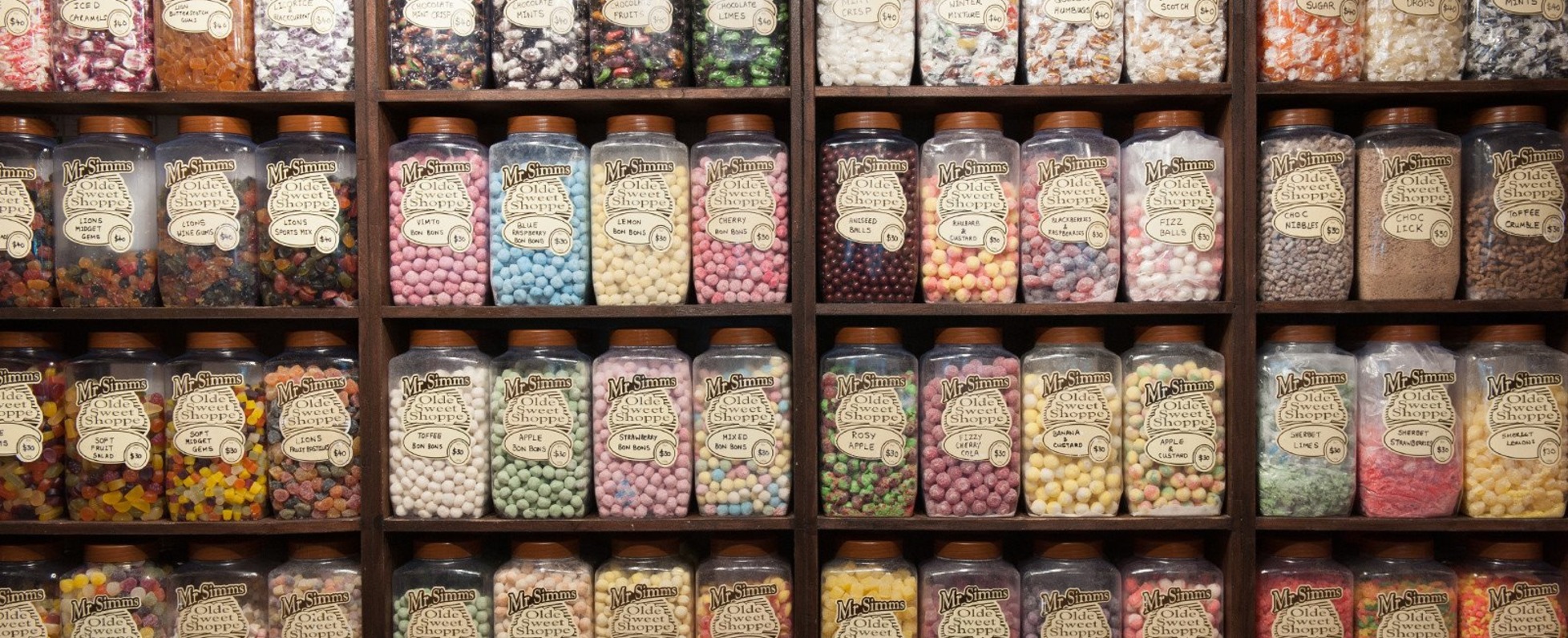 Opened in 2014, Mr Simms Olde Sweet Shoppe brings to Hong Kong retro and contemporary British sweets hand-served with a smile in a fantastical vintage Victorian setting of a bygone era. With four shops in Central, Mongkok, Hong Kong International Airport and The peak, you are never far away from being transported to a fantasy world packed from floor to ceiling with over 1,000 confectionery treats. Those who remember can rekindle fond memories of childhood dreams, and those who seek adventure can satisfy their desire to explore inconceivable new tastes.
Have you ever heard of a Rhubarb and Custard or Pink Shrimps? How about Flying Saucers or Fruit Salads? They're not what you think they are – they're actually traditional British sweets, and very tasty ones at that!
Or are you an expat from the UK feeling nostalgic about iconic treats such as Curly Wurlies, Wham Bars, and Sherbet Fountains? There was nothing quite like going down to your local sweet shop, picking out your favourites and then having them weighed out. Those were the days indeed...
We opened Asia's first Mr Simms Olde Sweet Shoppe, bringing a taste of Britain to Hong Kong. We sell all kinds of British confectionery, so why not rekindle with old favourites or try something new? With hundreds of different sweets and chocolates, there really is something for everyone – you might just find your new favourite sweet treat!
The walls of Mr Simms Olde Sweet Shoppe are packed full of hundreds of traditional and retro British confectionery items, including traditional pick n' mix type sweets such as black jacks, fizzy watermelons, and cola bottles; paper bags of goodies like bon bons, wine gums and pear drops, and other cult classics you may remember from your own childhood like love hearts, gobstoppers, white mice and wham bars. All of that plus a ginormous selection of chocolates, toffees, fudge and other confectionary means that you are most definitely spoilt for choice!
Stepping through the doors of Mr Simms Olde Sweet Shoppe is truly like entering a time warp. Take it easy on those wham bars though, we can't be held responsible for anyone's teeth getting stuck!
Retail Merchandise & Procurement Coordinator
This role plays a core support in the marketing & procurement and comes at a time of really exciting growth for the business.
The business works with a large network of suppliers in UK and Europe that are responsible for delivering their assets on the ground. This role will take ownership of the branded assets and collateral used by these suppliers and will be responsible for managing and developing the online platform for these assets and merchandise.Working with the teams the postholder will help to build relationships with suppliers and manage the distribution requirements.
Responsibilities
Duties vary but not limited to and typical include:
-planning product ranges and preparing sales and stock plans in conjunction with teams
-liaising with managers, analysts, stores, suppliers and distributors
-maintaining a comprehensive library of appropriate data
-working closely with retail staff and shop manager to decide how goods should be displayed to maximize sales
-producing layout plans for stores, sometimes called 'statements'
-forecasting profits and sales, and optimizing the sales volume and profitability of designated product areas
-planning budgets and presenting sales forecasts and figures for new ranges
-controlling stock levels based on forecasts for the season
using specialist computer software, for example to handle sales statistics, produce sales projections and present spreadsheets and graphs
-analyzing every aspect of bestsellers (for example, the bestselling price points, colors or styles) and ensuring that they reach their full potential
-maintaining awareness of competitors' performance
-monitoring slow sellers and taking action to reduce prices or set promotions as necessary
-gathering information on customers' reactions to products
-analyzing the previous season's sales and reporting on the current season's lines
-accompanying teams on visits to manufacturers to appreciate production processes
-meeting with suppliers and managing the distribution of stock, by negotiating cost prices, ordering stock, agreeing timescales and delivery dates and completing the necessary paperwork
-identifying production and supply difficulties and dealing with any problems or delays as they arise
-managing, training and supervising junior retail staff
Ideal candidates will display:
-Experience of working within an in-house or agency marketing team
-Strong stakeholder management experience
-Experience of procuring and merchandise
-Experience of running a digital platform
-Strong written and verbal communications skills
-BS degree in Marketing or related field
Basic info
Looking for
Retail Merchandise & Procurement Coordinator
Job type
Full-time