Chitchat with Entrepreneur: Wantedly X 香港寬頻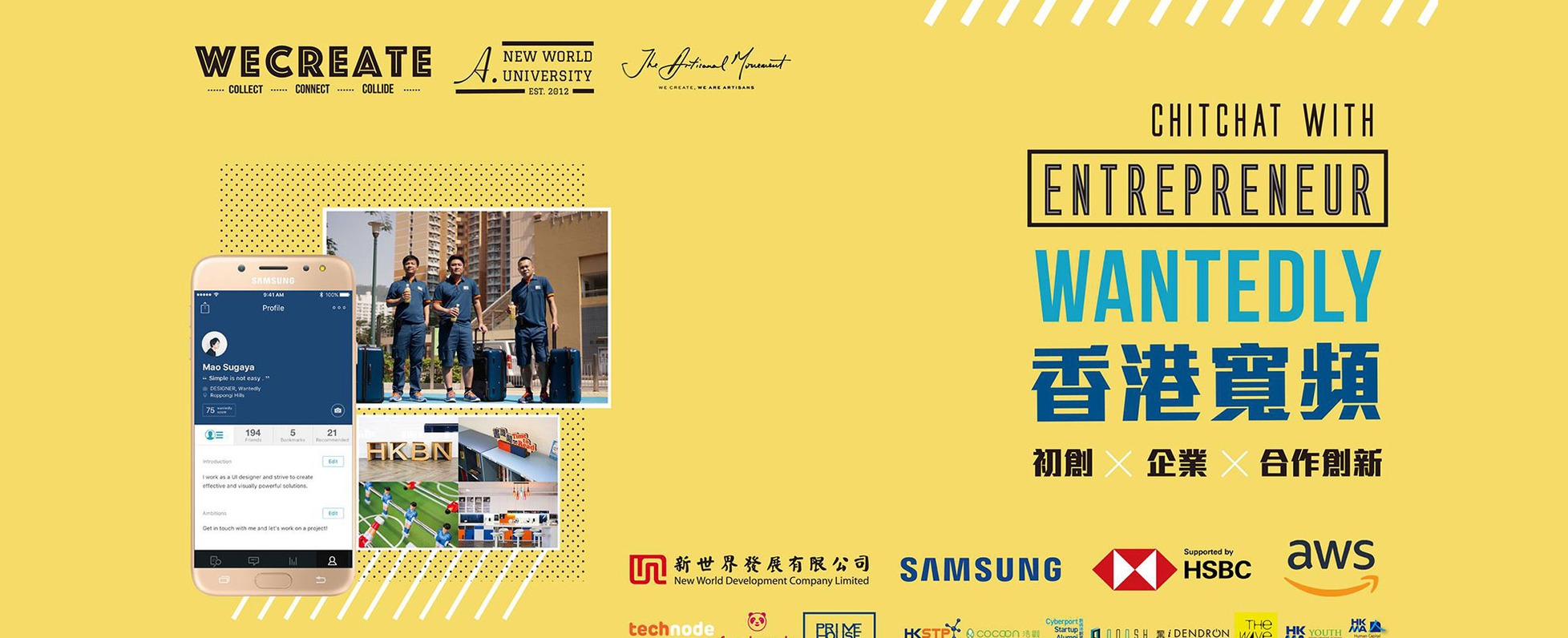 Meetup
2019.Mar.26
Tue
13:30 ~
at Prime House, Unit E-G, 11/F, Montery Plaza, 15 Chong Yip St, Kwun Tong
Kicking start my career in marketing, focusing in events and communications, I then became a recruiter to learn about sales and understood more of marketing/ digital marketing in various industries.

Now I'm driving Wantedly's user growth and promoting Wantedly on both digital and offline space...

Born and raised in a small town in New York called Albany. Moved to Hong Kong in 2015 to experience life. Currently working as marketing lead for a start up here in Hong Kong. Feel free to message me!

I'm the Business Developer for Wantedly HK, helping you find the people you look forward working with!

After graduation, I explored my passion and learnt to cook in a restaurant. Then I found something interesting and went on to help a startup with prototyping and analytics. During which I rea...

No description available.
大眾對於初創企業與大企業多會有一些概定印象。如初創企業多勇於創新,但時常會因資源不足而限制了發展空間;大企業則有充足的資源,但常被規章限制了創新的機會。現在一些初創和大企業開始建立互助的合作模式,發展出全新的創新生態圈。
A.新世界大學將聯同 Samsung、HSBC及Amazon Web Services,邀請Wantedly的業務發展總監Tom Chan和香港寬頻的人才關顧及企業社會投資主管CY Chan為大家分享初創和大企業合作的心得:
➡ 如何從「人」出發, 令企業和人才更有效溝通及理解對方的價值觀,合作更有默契,為傳統的企業生態注入新思維。
***
是次活動全免,由Samsung、HSBC及Amazon Web Services 贊助
🍔🍕參加者將會體驗foodpanda外賣服務🍴😋
____________________
【活動詳情】
日期:3月26日 (Tue)
時間:14:00-18:00pm
語言:廣東話(英文輔助)
地點:Prime House — 觀塘萬泰利廣場 11樓 E-G室
【分享嘉賓】
・Tom Chan - Wantedly Hong Kong 業務發展總監
・CY Chan - HKBN 香港寬頻 人才關顧及企業社會投資主管
【活動流程】
13:30 開始登記
14:00-15:30 初創工作坊 — Act like an Entrepreneur
 ・Samsung
  Samsung KNOX 如何幫助初創有效管理流動裝置
 ・HSBC
  如何利用商業銀行服務配合你的創業大計
 ・AWS
  Amazon Web Services 亞馬遜雲端運算服務
15:45-17:40 Chitchat with Entrepreneur: Wantedly X 香港寬頻(初創 x 企業 x 合作創新)
13:30-18:00 Artisan x Entrepreneur Networking
Location
Prime House, Unit E-G, 11/F, Montery Plaza, 15 Chong Yip St, Kwun Tong
Chitchat with Entrepreneur: Wantedly X 香港寬頻
2019.Mar.26
Tue
13:30 ~
at Prime House, Unit E-G, 11/F, Montery Plaza, 15 Chong Yip St, Kwun Tong