Building Next-gen Technology Beyond Blockchain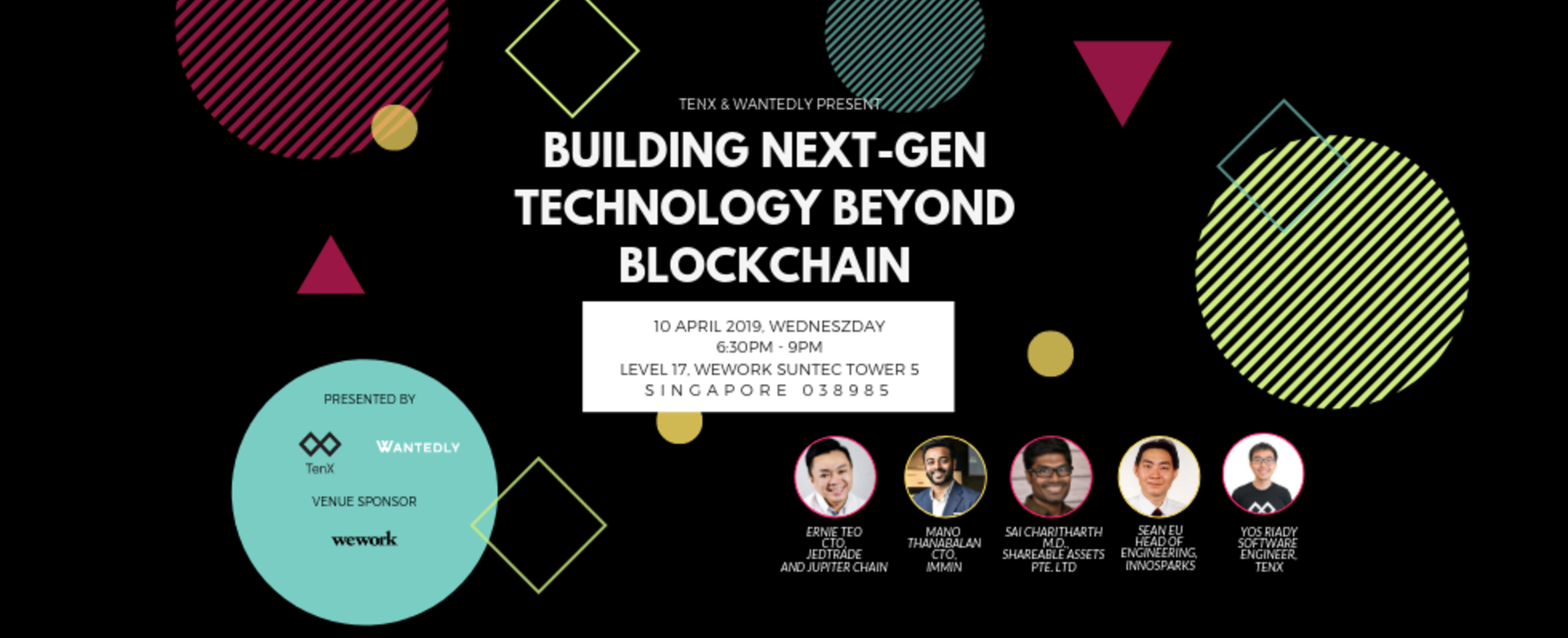 Meetup
2019.Apr.10
Wed
18:30 ~
at WeWork Suntec, 5 Temasek Blvd. Level 17, Singapore, 038985
Join us at our fireside chat, alongside our engineering squad. Gain first-hand insights into the latest tech initiatives we're spearheading, the importance of the role of blockchain in Fintech, and how we're using this technology for the future.
Are you ready to ten-x your knowledge on TenX? RSVP if you're interested!
18:30-19:00 Registration & Dinner
19:00-19:10 Intro of Event, Agenda, Speakers
19:10-19:25 Introduction by TenX
19:25-20:05 Panel Discussion
20:05-20:30 Q&A session
20:30 -21:00 Networking
Panelists:
Yos Riady, Software Engineer at TenX
Yos builds software for fun and profit. At TenX, Yos spends most of his time building decentralised applications on the Ethereum blockchain and writing Solidity smart contracts.He enjoys learning new things and teaching others about the latest in software development. He is a regular speaker at local tech meetups in Singapore and is the founder of the ReactJS Singapore meetup group. In his spare time, Yos enjoys going for nature walks and playing guitar.
Ernie Teo, CTO of JEDTrade and Jupiter Chain
Ernie Teo is a tech economist with a specialisation blockchain and fintech; with a keen interest in building inclusive socio-economic systems. He is Chief Technology Officer at JEDTrade, where he leads the research and development of the blockchain platform, Jupiter Chain.Ernie is active in the blockchain community in Singapore, giving talks and seminar both in the industry and at universities. He is also adjunct senior lecturer at the National University of Singapore where he teaches Fintech and Blockchain.
Sai Charitharth, Managing Director of Shareable Assets Pte. Ltd
Sai Charitharth is the Managing Director of Shareable Assets Pte. Ltd. He is a Serial Entrepreneur who had previously co-founded a fintech startup called CashTrack. He also led multiple teams and projects in top organisations like BlueWhale Foundation, DairyFarm International Holdings, Cognizant, and SmartAnalyst. He worked as an advisor and evangelist for multiple blockchain startups like Harmony Protocol, Shivom and Centareum. Furthermore, he co-organises a weekly blockchain developer meetup and weekly AI training sessions.
Mano Thanabalan, CTO of Immin
A technologist at heart, Mano Thanabalan is driving a new paradigm in business solutions through innovative design patterns inspired by distributed systems technologies like blockchain. One such example stemmed from his frustrations over poor process automation in company administration. This led to the creation of an electronic Corporate Governance platform powered by the Ethereum blockchain – the first in its field.Armed with the confidence of successfully marrying distributed systems theory and real-world applications, Mano started a new venture based in Singapore - IMMIN. Made up exclusively of engineers, IMMIN focuses on building decentralized business systems in other fields such as Enterprise Management, Data Protection and Insurance.
Sean Eu, Head Of Software at Innosparks
Sean possesses a strong grasp of technologies with more than 20 years' experience in IT. Sean's core ability is to enable businesses transformation through technology innovation, strategic IT alignment, business process re-engineering and IT leadership. He leads a strong cross functional team of software developers at Innosparks as Head of Software, building the Technology Team to develop the delivery of digital solutions, with focus on the Healthcare sector.Before joining Innosparks, he was the Head of Engineering at Electrify Pte Ltd., Chief Technology Officer at GlobalRoam Pte Ltd., and heading the IT Department at PropertyGuru where he successfully planned and executed various Strategic Technology Initiatives which lead to the exponential growth of the Company and its ability to scale and expand Overseas.
Location
WeWork Suntec, 5 Temasek Blvd. Level 17, Singapore, 038985
Company info
TenX
Founded on 2015/06
67 members
8 Eu Tong Sen Street, The Central, #24-89/90
Building Next-gen Technology Beyond Blockchain
2019.Apr.10
Wed
18:30 ~
at WeWork Suntec, 5 Temasek Blvd. Level 17, Singapore, 038985