Guest centric? Wants to create the best experience? Then we want YOU!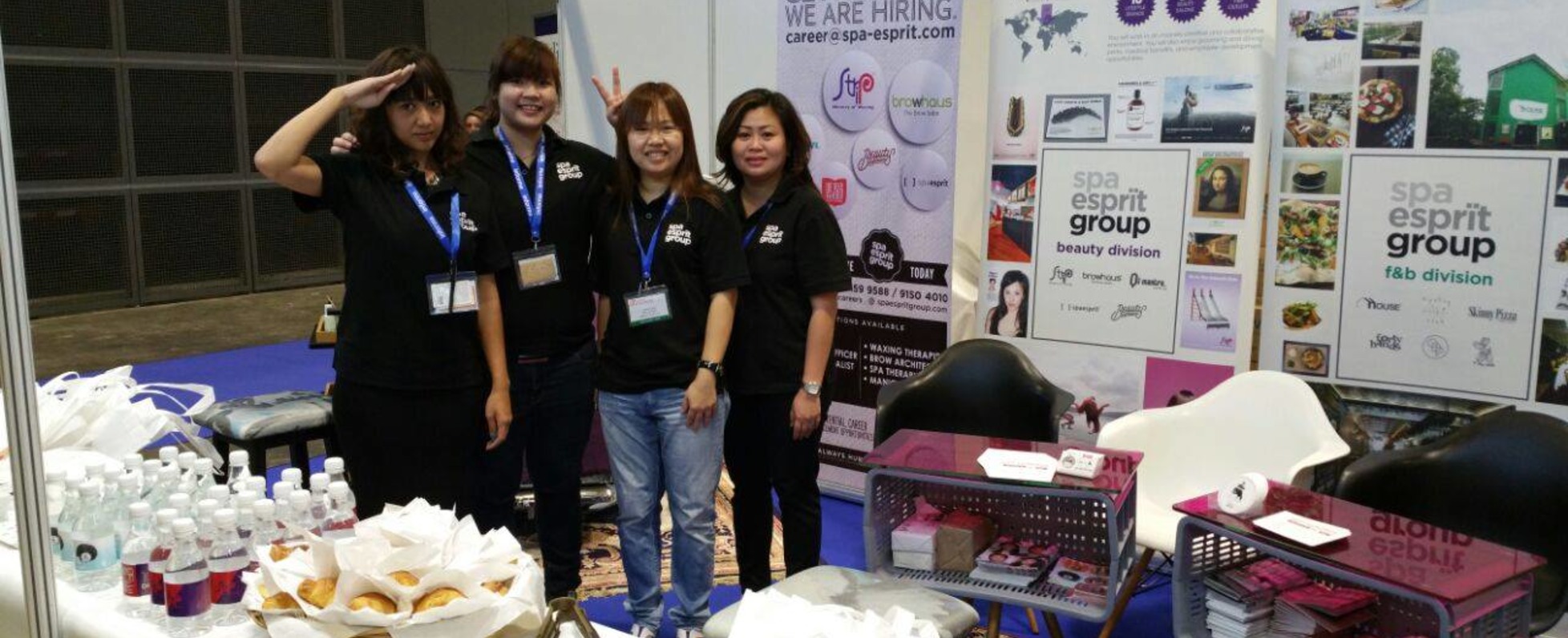 Sabrina

Human Resource
A hunter that is constantly on the lookout for talents that are hungry. Hungry for growth and striving to be the best version of themselves.

Sabrina
Human Resource
The Spa Esprit Group is a team with big dreams.
REALLY BIG!
With 16 brands under our umbrella, the Group has outlets located in key hotspots around Singapore and is always on the cutting edge of innovation, from food to beauty to wellness and all-round experiences.
We've taken our dreams` further, reaching for international shores with outposts in global cities like London, Shanghai, Jakarta, Manila and Kuala Lumpur.
And with plans to grow even more, we're constantly on the hunt for people who want to grow themselves — and their dreams too. If you want to be part of our dream factory, where insanely creative and collaborative moments thrive every day, then we have a spot for you!
Tasked with the mission of responding to the lifestyle needs of the modern consumer, each of the Group's companies addresses the specialized needs of its target market by being an unabashed trendsetter. But above all else, the Group ethos champions the holy trinity of quality, value and innovation.
We have a strong service culture that aims to provide the best offerings in beauty and lifestyle regardless of creed, colour or gender. Our culture is one of hard, dedicated work; we never rest on our laurels until our partners, stakeholders and customers are beyond satisfied.
Reporting to the Call Centre Manager (Beauty Division), the successful candidate will be responsible for providing call centre services in the following areas:
-Deliver excellent customer service to enhance a total customer satisfaction
-Schedule treatment appointments on customers' behalf
Address clients' feedbacks efficiently and effectively to turn unhappy customers into return guests
-Build rapport and establish good relationships with clients to ensure customer retention
-Promote and up-sell products, services and packages to maximize sales opportunities where necessary
-Other administrative ad-hoc duties where necessary
Qualifications and Experiences:
-Candidates should possess at least GCE 'N' Levels certification or equivalent
-At least 1 year of professional experience in a similar capacity will be advantageous for the role
Knowledge and Skills:
-Applicants should be able to converse fluently and effectively in English
-Service oriented individuals with good interpersonal skills
Basic info
Looking for
Customer Relations Officer
Job type
Full-time
60 Jalan Penjara Singapore 149375