Join our high performing team as our People Operations Associate TODAY!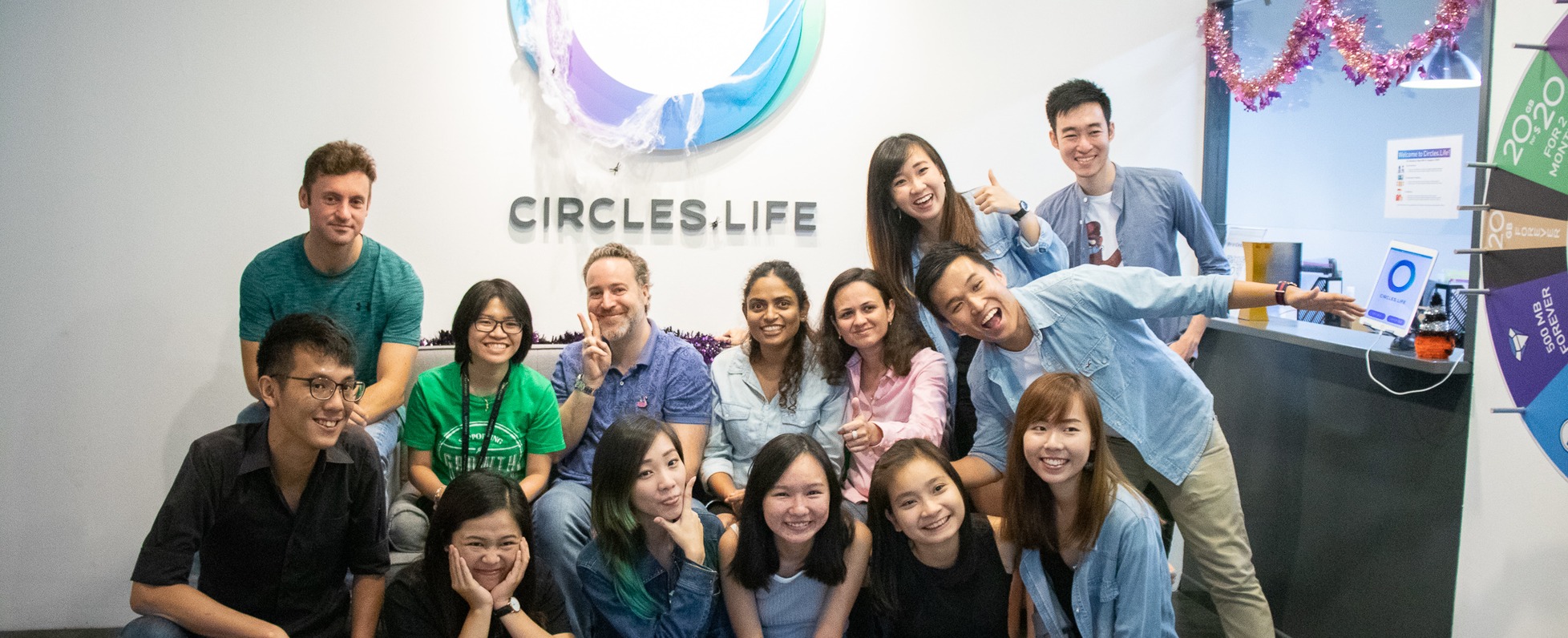 Homegrown in Singapore, Circles.Life is Singapore's 4th telco and first fully digital telco leading in no-contract mobile plans.
With our game-changing digital products and leading no contract data focused mobile plans, we're bringing a whole new experience to the digital consumer market. Our mission is to re-imagine the mobile experience for the digital consumer and to disrupt the multi-trillion global telco industry.
We get asked all the time, "What's with the 'dot' in your name?" Try typing Circles.Life into the Address Bar at the top of your browser and it goes straight to our website. Sneaky right? However, when pronouncing our name, just lose the 'dot' to say - 'Circles Life'.
Giving power back to the customer
For us, it's all about the customer. We've built an end-to-end and fully integrated digital user journey where our customers enjoy a seamless experience at every stage. Customers are empowered to manage and design their own mobile plan to best fit their needs.
With an easier customer experience and power over your plan each month, we've become the fastest growing network in Singapore.
Leading innovation in the telco industry
Circles.Life was born from the ambition of three friends. They discovered that like them, many couldn't find a telco that offered services catering to their mobile needs, so they decided to come together to create a revolutionary telco experience.
Circles X, our game-changing cloud-based technology platform, was built from the ground up. With this technology, we're able to rapidly implement innovative products, bringing them to our customers in an instant.
Building a great place to work and grow
At Circles.Life, every individual from our diverse and energetic team plays a part in making our ground-breaking initiatives possible. Join us as we work towards bringing our mission to the world.
At Circles.Life, every individual from our diverse and energetic team plays a part in making our ground-breaking initiatives possible. Join us as we work towards bringing our mission to the world.
As our People Operations Associate, you will be given a unique opportunity to work on high impact projects across different areas of People Operations.
Ideally, you should possess superior analytical skills, energy, drive and attention to details while being a team player with a forward-thinking mindset, ability and confidence to challenge the status quo to rethink and re-define how work gets done and high performing teams get build.
As a key member of our team, your responsibilities include:
- Take ownership of various areas in People Operations, including but not limited to:
-- Payroll administration
-- Employee benefits design, implementation and administration
-- Policy research, design and implementation
-- Culture and employee engagement
- Execute and support on-boarding activities in a timely and effective manner to deliver a seamless and personable experience to new hires
- Be an active member for Business partnership; sharing insights on organizational structure, people strategy with management.
- Lead coordination and execution of administrative functions-
-- Facilities management (occasional)
-- Team building activities (monthly/biannual)
You should posses:
- Bachelor's degree in HR, Psychology, Business, or other relevant fields
- 1 to 4 years of experience in HR, People Operations, Workplace Engagement
- Team player; able to work in an environment with high inter-dependencies between teams and cross-cultural colleagues.
- Strong negotiation skills; be able to negotiate the best deals for the company/employees.
- Staunch believer in continuous self-improvement, leading with empathy, compassion and team-work.
- Be able to use internet for research purposes; especially checking salary benchmarks.
- Passionate about Technology, Disruptive models, -
- Organisational Culture, and Talent Management.
Good understanding of Singapore's employment laws and related policies; Experience working with people of various nationalities: Start-up experience or exposure in technology-focused organizations will be a plus
Sounds like you? If you are deeply analytical yet creative, statistically gifted with a passion to shape the future of telco - We want you! Click "Want to Visit" Now!
Customer first
For us, it's all about customers. We've built an end-to-end and ful... Show more
Open communication
Communication is key in every business and relationship. We encoura... Show more
Agile engineering
We apply a cloud-based model using Circles-X technology to automate... Show more
Basic info
Looking for
People Operations Associate
Job type
Full-time
Company info
Founded on
January, 2013