LOVE food? Share your passion for food to our viewers as our Digital Content Producer!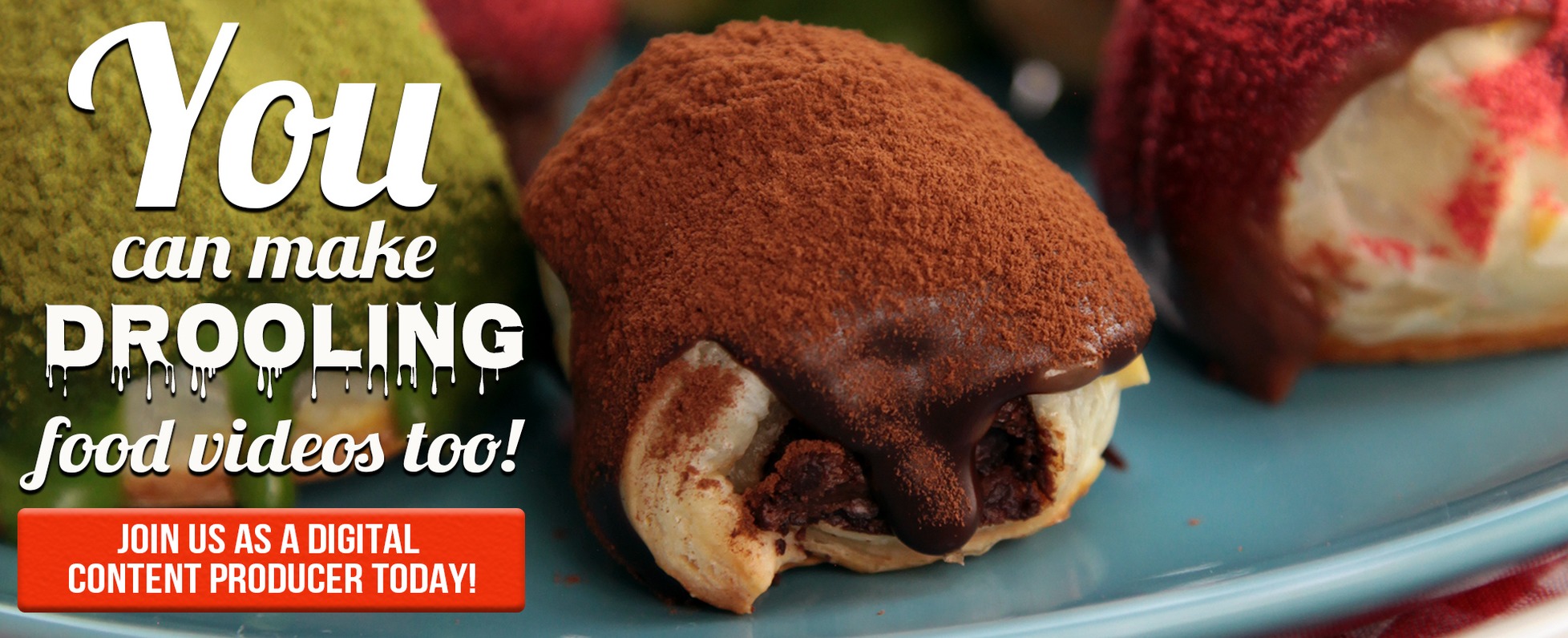 No description available.
Share Food Singapore is a platform on all things FOOD! Yes! We gather food recipes from over 200 home cooks, film their recipe down and run our own social media channels, creating attractive cooking video!
We aim to be the next TASTY/TASTEMADE of Asia, and we are currently looking at recruiting several roles to make this vision a possibility!
We believe everyone loves food! No one says no to food video! Anyone can watch our video to learn or just for pure entertainment!
Thrive in an entrepreneur culture here, it is not about the number of hours you put in, but the amount of effort! There's no need to be in the office 8 hours a day when you can complete yours in 6.
We are currently growing and looking for core team members to be respective Head of Department within the next 12 months.
If you love food, and is self motivated and driven, we want you!
Share Food is all about creating mouth-watering food videos and we aim to be the next TASTY/TASTEMADE of Asia. We are currently looking at recruiting several roles to make this vision a possibility!
We aspire to be one of the top food social media pages in Singapore. Our contents are viewed by millions to date, with viewers from Singapore, Malaysia, Australia, USA, India and more to date!
Are you passionate about food? Want to be exposed to the media industry? Look no further here!
As an individual contributor, your role is to produce weekly mouth-watering videos and ensure that the content engages the audience. You must have the discipline to self-learn and is eager to explore new ideas and willing to get your hands dirty to work and learn.
As a team player, you are always ready to lend a helping hand to the rest of your teammates. We are a small team and will always appreciate little help from one another.

Primary Role
• Spot new food trends and discuss with the team on new food content
• Edit video using Premiere Pro and After Effects, bonus if you are good with After Effects and able to produce graphic work.
• Produce and edit photos using Photoshop or AI
• Create and manage SEO-driven postings and content for Share Food's website and social media platforms (IG, FB, Pinterest, Youtube)
• Produce new cooking shows together with DOP, handling talents and manage shoot schedule
• Be the "hands" on the video!
Requirement
• FOOD LOVERS are a MUST!
• Basic knowledge of Adobe Premiere Pro
• Basic knowledge of After Effects and Photoshop/Illustrator
• Basic knowledge on music and sound effect
• Position only for Singaporeans & PR
• A team player with positive, self-driven, motivated, entrepreneurial mindset
• Start-Up environment
• If you know how to cook and know your food, your chance of getting hired will be higher!
Apply for this role only when you're hungry, literally.
Experience Requirement: At least 1 year of experience in video editing. If you're a fresh graduate looking for a highly exorbitant salary, we're afraid this job might not be for you too.
Click "Want To Visit" to apply. Don't forget to fill up your profile so we can get to know you better :)
Basic info
Looking for
Content Producer, Videographer, Editor
Job type
Full-time
Company info
Founder
Loo Pei Wen
Founded on
November, 2016
Industries
Media / Publishing / Advertising