Accelerate our international growth!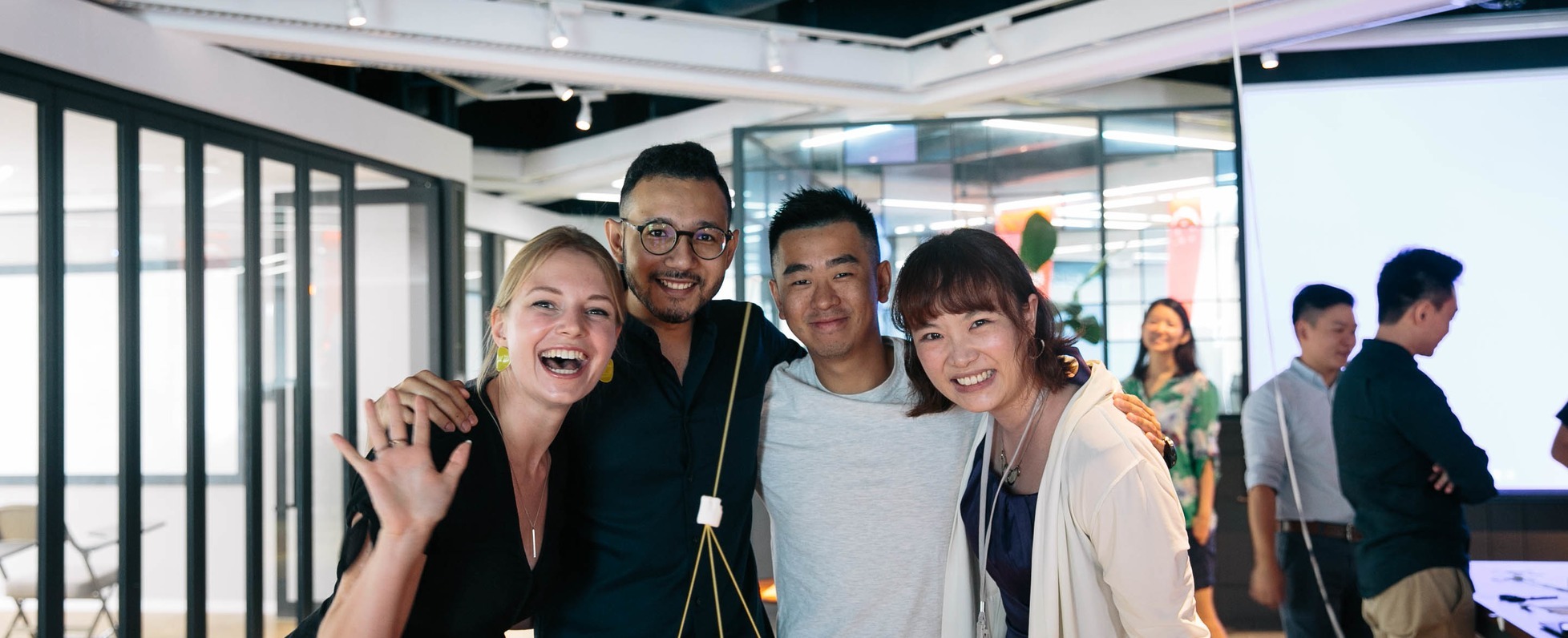 I am originally from the US, currently living my dream in Japan.
At Wantedly, I am part of the Corporate team, handling international operations and customer success.


Wantedly Inc. Global HR Team

Born and raised in London and now living in Tokyo. I work as a member of the Wantedly HR team in Tokyo.

Born and raised in Albany, New York only moving to Hong Kong in 2015 to gain international work experience. Spent 3 years working in a 4A's advertising agency specializing in digital. Worked in the regional office overseeing clients such as Colgate, Palmolive, and Hill's Pet Nutrition. Now curren...

Born in China and raised in Singapore. I chose to fly into Japan after my graduation from National University of Singapore. I'm currently in the overseas operations team of Wantedly, handling contract related matters.
Founded in 2010, Wantedly is a Tokyo-based startup helping you discover jobs that ignite your passion. We've created a platform where people and companies meet based on passion and values, rather than simple salary and benefits. Every day, we work on adding new features that further enrich your work experience.
We are currently one of Japan's business networking platforms with over 2.4-mil monthly active users and brands like Uber, Airbnb and Buzzfeed are acquiring talent via our platform.
Wantedly aims to connect talents with companies based on shared mission and values, rather than salary and benefits.
Striving to Create a World Where Work Drives Passion, we want to provide opportunities for talents to discover their dream companies while allowing companies to showcase their brand story and passion projects to build their dream team.
We seek to establish a workplace culture, where people are happy with their jobs, motivating them to work hard which drives personal development and impact.
Wantedly has achieved phenomenal success in Japan, and we are now on a mission to bring the idea of building happy lives through happy jobs in other parts of the world.
We strongly believe in boldness, taking the initiative, expression of creativity, and taking pride in ownership – and we like to challenge people to unlock their fullest potential.
If you like working in an environment full of energy and passion and enjoy being part of an entrepreneurial team of talented, ambitious young people, we would love to hear from you!
Create a world where work drives passion. That is our vision and our goal. We are currently expanding to Hong Kong, Singapore and Germany in an effort to bring our services to the rest of the world. We are looking for a driven individual to help support this expansion.
This role provides you with the challenge of building new processes from the ground up which will support our international growth. Our overseas teams need to focus their energy on business development. To support them you will need to tackle a variety of problems and assist with a number of customer related tasks.
Communication is key. You will be working closely with colleagues and clients from 4 different countries. Being an effective communicator is a must in this line of work. This work will provide you with the opportunity to utilize your skills.
[Responsibilities overview]
- Managing communication between headquarters and overseas offices.
- Figuring out where we can make efficiency improvements with our communication.
- Overall operational efficiency. Creating efficient processes to help us deal with various situations.
- Managing invoices.
- Supporting potential English-speaking clients.
[Wanted]
- Adaptability. Being able to adjust to different cultures and problems is key!
- Someone happy to dive in to both front and back-end work.
- Critical thinking. You will be solving problems daily.
- Communication skills. This is not language. This is the ability to effectively understand and work with different people.
- Professionalism. We are a pretty relaxed place to work and we value a flat company. That being said we hold ourselves to high standards and expect the same of all members.
[Required]
- A strong desire to change the way we work!
- Native/business level Japanese
- Native/business level English
Basic info
Looking for
Operations
Job type
New grad/entry level
Special features
Use foreign languages / Business trips abroad / Foreign nationalities welcome
Company info
Founder
仲 暁子
Founded on
September, 2010
Headcount
100 members
Industries
IT (Internet/Mobile) / Human Resources / Nursing Care