Specialist/Senior Specialist, Marketing (Campaigns) | Develop go-to strategies for Scoot!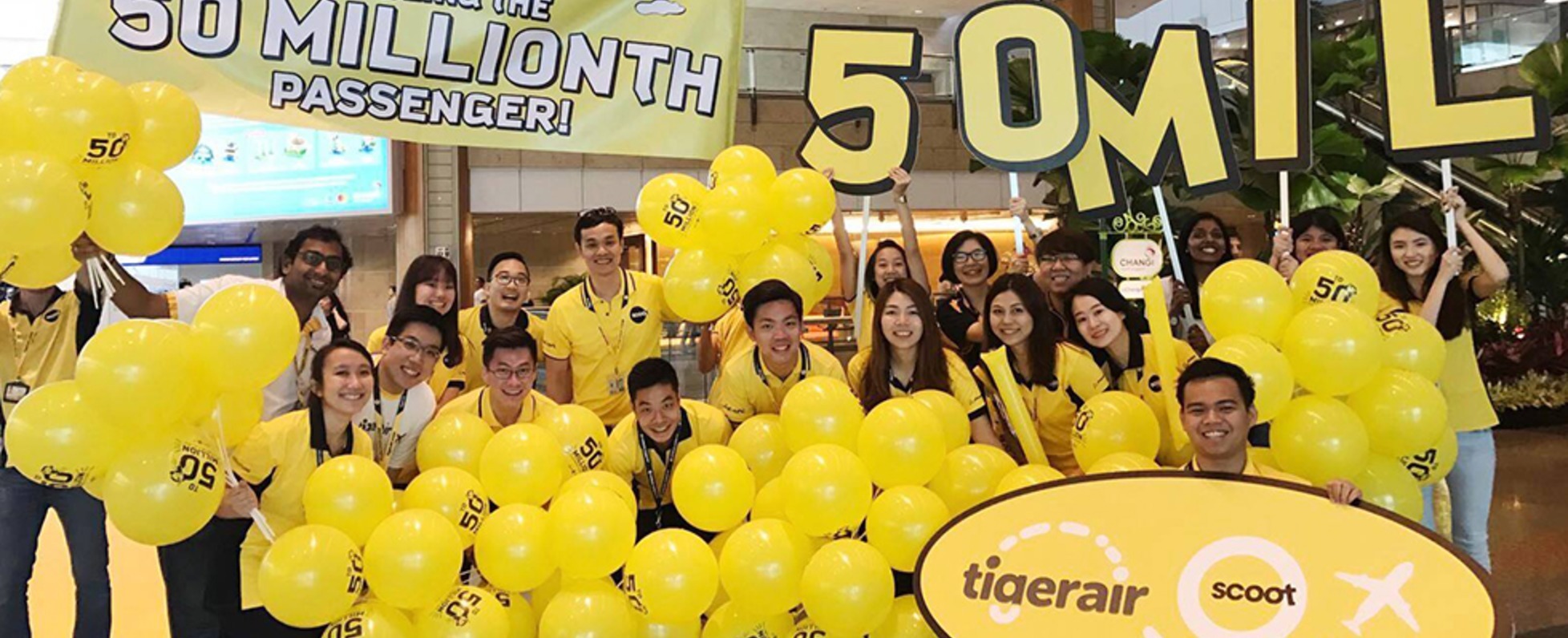 Always on the hunt for individuals with the Scootitude!
Scoot™ is the low-cost, medium-to-long haul arm of the Singapore Airlines Group. Scoot took to the skies in June 2012 and merged with Tigerair Singapore in July 2017, retaining the Scoot brand and positioning it well for a new chapter of growth.
Scoot offers an impeccable delivery service with personality, a contemporary feel and the choice to only pay for what matters to you. We announced ourselves to the world publicly on November 1st 2011 and, since then, we have grown spectacularly thanks to our customers and fans.
We want people with big smiles and even bigger personalities. People with passion—passion for travel, passion for people, passion for pushing boundaries. An airline with a different attitude. People with a different attitude. Scootitude™.
If you think you have Scootitude and can handle the excitement and challenges ahead to grow with us, apply today!
Receive information about vacancies and recruitment from Scoot Careers Facebook Page – "GOT Scootitude?"
Scoot is expanding and we are looking for our next specialist in marketing (campaigns)!
Market responsibilities
- Responsible for development of brand and go-to-market strategies for 2 or more markets that the airline flies to.
- Develop Robust Marketing Plans for those markets to support the business.
- Execute tactical initiatives to boost sales in the markets.
- Work with internal design/production team and external agencies to execute marketing plans in those markets.
- Work in partnership with Tourism partners and Interline partners on Co-Marketing plans
Advertising
- Responsibility for defining the marketing strategy with a view to integrating concepts across our platforms (owned and paid) - media planning and buying; working with Comms team on potential coverage (earned media).
- Ensuring marketing campaigns have maximum stand out, reflect the airline's brand values.
- Working through both external and internal to manage production and implementation timelines to ensure that campaigns go "live" across platforms.
Customer Experience
- Track and monitor delivery against the brand and marketing vision
- Ensure this is integrated – alongside Scoot values – and carried through our touchpoints
Brand and Product Development
- Manage the brand identity across consumer touch points
- Ensure the organisation keeps to brand guidelines
- Conduct market sensing activity to refresh where necessary
- Determine the opportunity or need for change to the customer proposition from a brand perspective by assessing new ideas, market trends, consumer needs, passenger and staff feedback. - This will include the identification of sources of future competitive advantage, the definition of appropriate product life cycles and the classification of key customer segments from a value based perspective
Cross-functional Initiatives
- Where needed, work with other departments like Ground Operations, HR, Cabin Services, to develop and execute initiatives/projects to promote the airline and the brand.
Budget
- Manage own cost budget for each market ensuring optimal spend and ROI
- Keep a strong control on the marketing spend with the marketing agencies, suppliers and planned product budget to maximise revenue opportunity and improve profitability, manage administrative tasks related to invoicing and budget accruals
- Work with Commercial team to achieve overall revenue budget and market share targets for your market
Essential traits
- Degree Holder
- The ideal candidate will have demonstrated a successful track record in a strategic marketing or brand/product management role
- At least 1-2 years of agency/commercial/marketing experience
- Strong digital marketing capabilities and knowledge with prior experience in developing and executing digital-led campaigns across paid, owned and earned media
- Strong analytical skills and data driven approach, up to date with latest trends and best practices in online marketing and measurement.
- Experience in the retail or dynamic fast moving consumer goods environments a major advantage
Desirable traits
- Excellent written, spoken and reading capability in English and Chinese (Mandarin Preferred).
- Commercial acumen
- Creative and innovative style
- Highly motivated to succeed
- Team player; collaborative working style
- Energy and enthusiasm
- Self-starter and excellent communicator
Sounds like your line of work and ready for your next challenge? Click "Want to Visit" to talk to us :)
Basic info
Looking for
Specialist / Senior Specialist, Marketing
Job type
Full-time
Company info
Industries
Leisure