IT Analyst, Front End Developer | Build and deliver with agility in the tech space!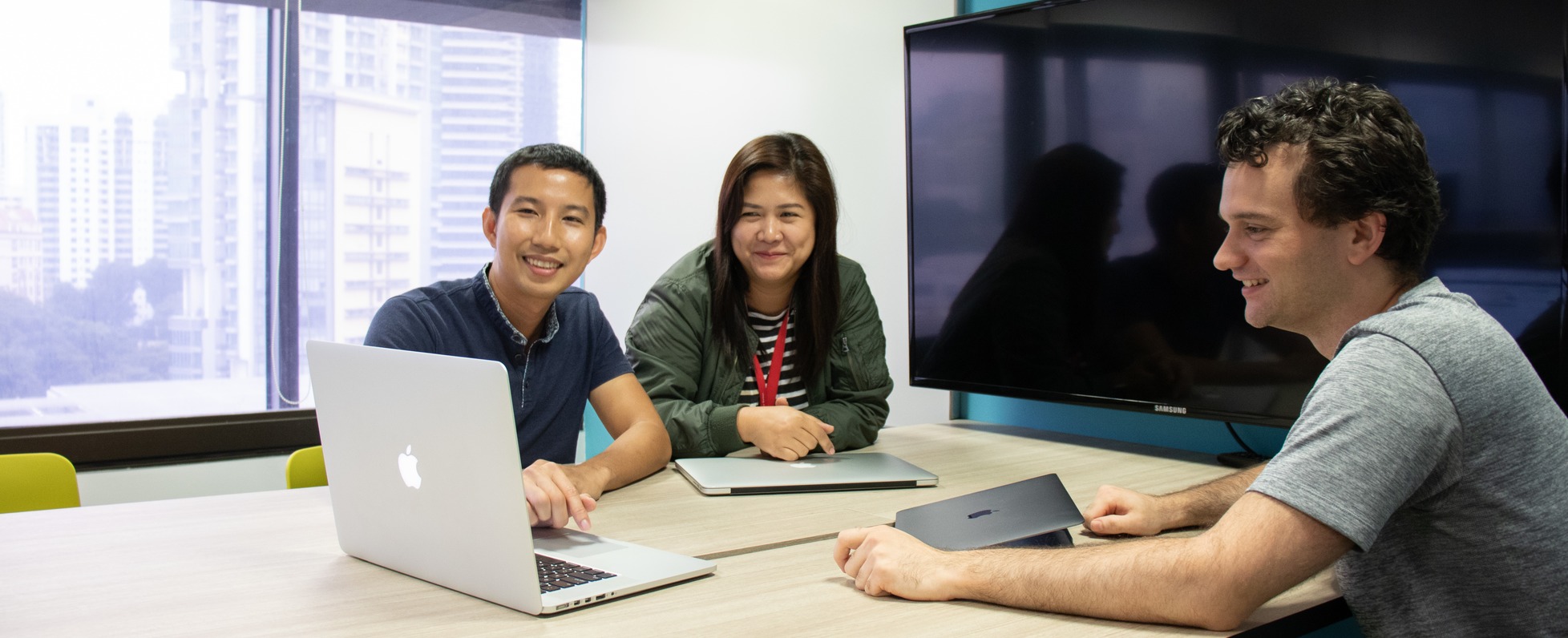 The Singtel Group is Asia's leading communications group.
We provide a diverse range of services including fixed, mobile, data, internet, TV, infocomms technology (ICT) and digital solutions.

Headquartered in Singapore, Singtel has more than 130 years of operating experience and played a pivotal role in the country's development as a major communications hub.
We work closely with our associates, leveraging our scale in networks, customer reach and extensive operational experience to lead and shape the communications industry. Together, the Group serves over 685 million mobile customers around world.
Singtel is one of the largest listed Singapore companies on the Singapore Exchange by market capitalisation. The Group has a vast network of offices throughout Asia Pacific, Europe and the USA, and employs more than 23,000 staff worldwide.
Breaking Barriers, Building Bonds
We believe that the world is a better place when technology is used to help people and businesses communicate effortlessly.
We want to create sustainable long-term growth, to deliver superior returns to shareholders and positive impact to stakeholders.
We make communication easier, faster and more reliable for customers, while delivering value to our stakeholders.
Singtel's Core Values underpin our desire to create a unity of purpose across the Group. They reflect our common aspiration to foster a performance-based culture that is open and innovative, and that promotes mutual trust and engagement.
1. Customer Focus
Our success is based upon our customer focus. We listen to, and connect with, customers and treat them with dignity and respect. By understanding and anticipating their needs, we make it easy for our customers to do business with us. We aim to offer them value and quality services to enrich lives and enhance business success.
2. Challenger Spirit
The creativity and innovation of our people set us apart. We look for better ways of doing business and share a passion for making a difference. When faced with challenges and opportunities, we do not say "Cannot" but ask "Why not?". We are tenacious and we compete fairly.
3. Teamwork
By working as one team with shared goals, we believe we can achieve great things. We value ideas and contributions from everyone. We recognise, respect and value diversity in the team. We develop strong bonds by communicating and sharing knowledge. We encourage open discussion and commit to an agreed position. All of us have a part to play.
4. Integrity
Our reputation is based upon our ability to fulfill promises to shareholders, customers and employees. We do so by being honest in our dealings, taking responsibility and being accountable for our actions. We treat everyone the way we would like to be treated. We are proactive in identifying issues and coming up with solutions. We ensure that the highest ethical standards guide us in making decisions.
5. Personal Excellence
Leadership and superior performance are achieved through the pursuit of personal excellence. We are committed to doing and being the best. We seek continuous improvement and take pride in what we do. We do things to the highest possible standards. We acknowledge the potential of the individual and create opportunities for all to grow and excel. Together, we celebrate our success and achievements.
Be at the forefront of our technological innovation- Singtel is on the search for our next Front End Developer.
As a developer, you will take technical ownership of the products you build and deliver in the Online Technology space at Singtel. You will build the portals, mobile applications, and the services to support these, both from a function and a non-functional point of view.
You will be part of a multi-national team across Optus and Singtel and other parties, working with people in multiple time zones and with differing cultural backgrounds.
You will work with Architects, Solution designers, and developers on the online platforms. You will work with product people, content producers, UX designers and business analysts to understand and flesh out requirements to implementation.
You will work with testers and operational people to ensure that solutions are of high quality and can be operated easily. This is a hands-on technical role.
As a developer you are expected to be well versed in modern web and mobile app technologies, both from a technology point of view, as well as from an operational point of view. You are comfortable discussing what a typical online technology stack looks like, and you can talk about how online applications scale. You know what cloud services are, how they operate and how they are used in an online technology environment.
You get excited by new technology, but you are capable of dealing with legacy systems as well. You are not afraid of software archaeology or reading documentation. You know how to build an application ecosystem in a modular fashion, so that pieces can be changed independently from other pieces.
You can provide the right level of documentation for systems, interfaces and software, and you understand the value of that documentation.
You are comfortable having discussions with business people at various levels to negotiate scope, requirements and explain how alternative designs can deliver a better solution. You know how to ask questions in a non-technical forum and translate the answers into technical design.
You can work in an agile environment, and have done test driven development. You are a stickler for quality and good design, but understand the importance of delivering business value early. You can design an incremental software development plan that can fit into a continuous delivery cycle. You understand the value of test driven development, continuous integration, continuous deployment, and regression test coverage.
Job Requirements
• Bachelor's degree in a relevant field (i.e. IT, Computer Science or Software Engineering)
• At least 6 years of relevant working experience.
• Development experience in JS, CSS, HTML5, Responsive Site, Reactive Design, Sass, Frontend Templating, (e.g. Handlebars and Mustache)
• Agile experience
• Test driven development / Unit Testing
• Behavior Driven Development
• Ractive, React, or JSX
• Precompiler experience with SASS
• NodeJS, Cucumber, Angular, Backbone, Object Oriented Design.
• Mobile Application Development
• GIT
• Knowledge/Experience in Wiki applications.
• Knowledge/Experience in Agile Development and Management tools, e.g. Jira, Nexus, Artifactory, Jenkins, Sonar, Selenium, Stash
• Knowledge/Experience in Continuous Integration and Automated Testing
• Good oral and written communication skills.
• Must be proactive, resourceful and self-motivated with strong analytical skills.
• Ability to lead a team or liaise with vendors in managing projects delivery
• Good interpersonal, written and communication skills.
• Experience in software and application development that requires analysis and design work.
• Review of test plans and test cases for SIT
Sounds like your line of work and ready for your next career milestone? Click "Want to Visit" to connect with the team. Don't forget to brush up your Wantedly profile so that we can get to know you better.
Basic info
Looking for
Front End Developer
Job type
Full-time
31 Exeter Road, #01-00, Comcentre, Singapore 239732