Lead Software Developer - We aim to build Electrify to offer a seamless experience for customers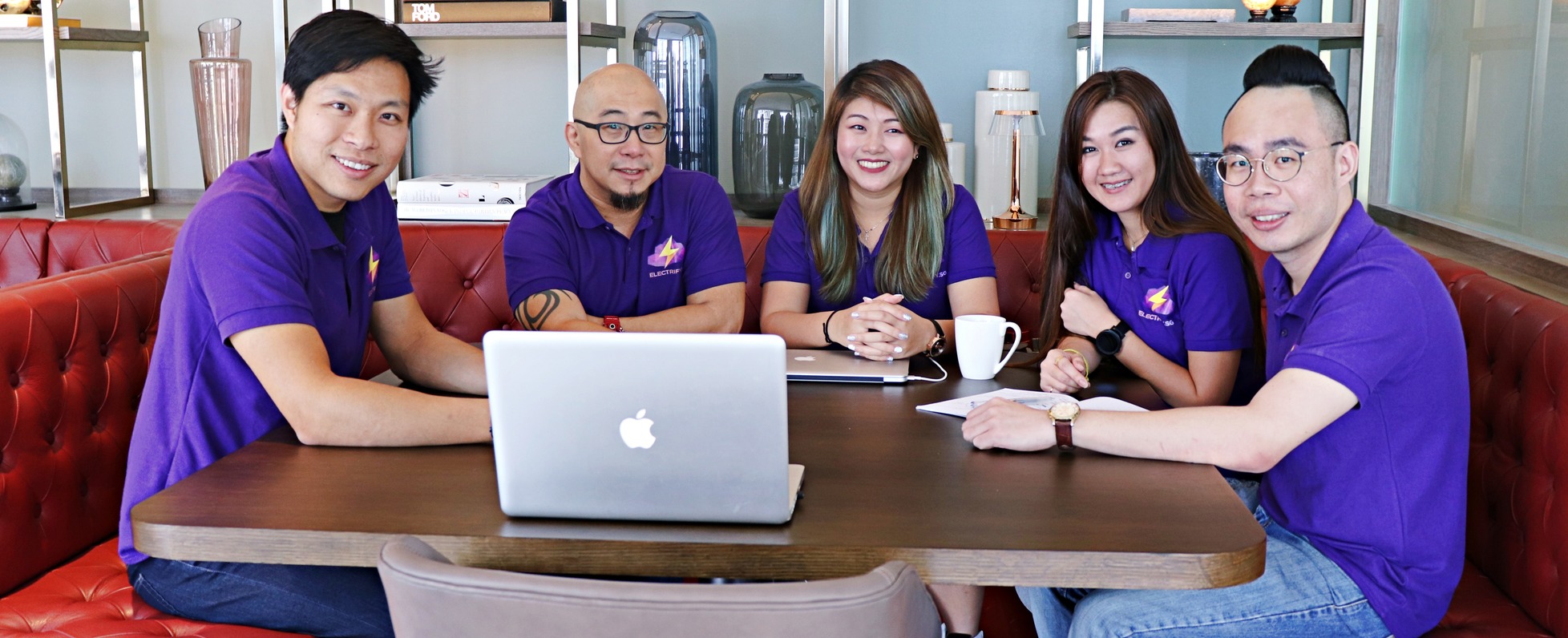 I strive to achieve maximum efficiency and love it when things work the way they were built to work. I have travelled to various parts of America, Europe, Asia, including Australia and I could not help but to compare how each country I travelled to was more efficient in some way compared to the o...
ELECTRIFY.SG is one of the leading companies of retail electricity in Singapore.
Every energy quote is bespoke and generated by Fibonacci™, our proprietary electricity pricing engine that sifts through millions of possible price permutations. We allow consumers to seamlessly source and pay for energy and related services.
Founded by two senior executives from the electricity industry, ELECTRIFY addresses some very real needs in Singapore's energy market and represents the next evolution in the market's maturity.
For the first time, consumers have the power to choose how they want to buy electricity—from cheaper electricity prices to zero-carbon energy, bundled deals to energy-efficiency offers.
Generating bespoke energy quotes through Fibonacci™, our proprietary electricity pricing engine that sifts through millions of possible price permutations.
Offering deep domain knowledge and market intelligence to resolve any misinformation or ambiguity about electricity liberalisation and confusion over price plans.
As the single source for all your electricity needs, we help you make smarter decisions by putting the power to choose back in your hands.
Job Description
- Lead and drive the architectural design, development framework and implementation of our Mobile/Web/API initiative.
- Architect the integration of the blockchain across all integration touchpoints of our Mobile/Web/API.
- Full stack development skillset with experience in mobile, web and mobile development.
- Able to drive best practices of software design and development
- Experience in implementation of a microservices architecture and developing and implementation of front and backend API's and solutions.
- Lead, mentor, align and focus developers for the development of high quality code developed for extensibility, scalability and redundancy.
- Manage delegate and track tasks effectively to team members and ensure the deliverables meet management's tight deadlines.
- Team player with solid communication skills and experience in Agile Development utilising Scrum.
Requirements
- Diploma or Bachelors Degree in Computer Science/Information Technology or equivalent.
- Required language(s): English
- At least 8 Year(s) of working experience in the related field
- Preferably a hands on senior developer with experience leading a team specialising in development, architecting and implementation.
- Experience in development on Microservices Architecture and Object oriented programming languages such as PHP, Python, Javascript, Node.js, Linux/Unix OS, Go Lang, MongoDB, Express, (MEAN stack) HTML, CSS & jQuery, AngularJS
- Strong working experience in modern development practices such as Continuous Integration/Continuous Delivery, Containerised development, configuration management using Chef/Puppet and Test-Driven Development
- Implementation experience in mobile development on both Native Android and iOS and frameworks such as React/React Native
- Experience in developing and deployment of enterprise grade solutions onto a modern Cloud Architecture such as Azure or AWS
- Translation of designer mock-ups and wireframes into a Laravel front-end
- Strong knowledge of frontend UX/UI thought processes
- Strong working experience in modern PHP development in Laravel integration with a MySQL back-end
Click "Want To Visit" to apply. Don't forget to fill up your profile so we can get to know you better :)
Basic info
Looking for
Web engineer
Job type
Full-time