Relationship Manager - Join us to help singles find their life partner!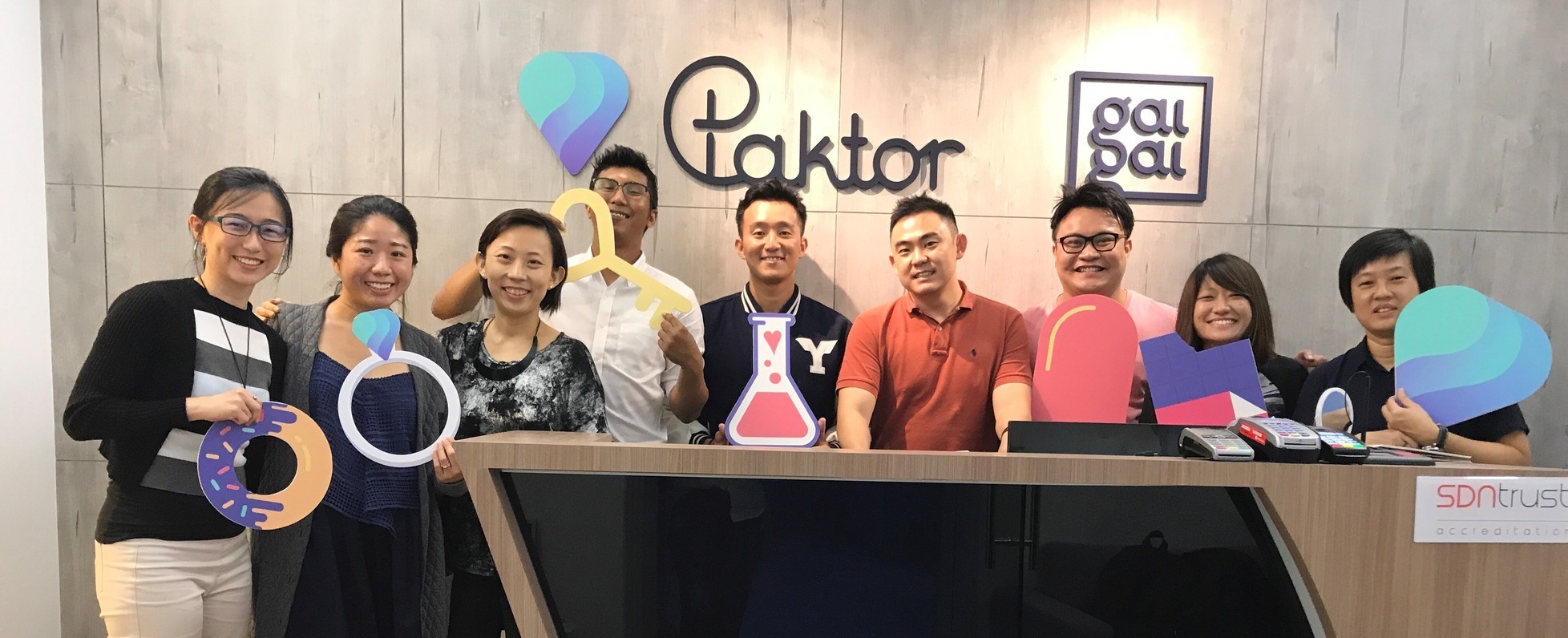 Paktor is the leading SE Asian provider of various social networking platforms that are dedicated to helping Asian singles meet other singles in the region. Paktor emphasizes anonymity, locality, and usability for our users. We find out who you'd like to meet nearby and connect you with them if they're also interested. Or to put it simply, we bring people together: without the pressure. After all, that's what Paktor means.
We have doubled our user base across Asia to over five million in six months, and are now set to be the biggest social dating brand in Asia with $10 million new funding. Our investors include Majuven, Convergence Ventures and returning investor Vertex Venture Holdings. Expansion remains a top priority for us, and we welcome you to join us if you are an ambitious self-starter who an appetite to drive expansion in new markets for a high growth startup!
Paktor was founded with the mission of connecting singles in Asia through technology enabled platforms. To date, Paktor's platforms have grown rapidly across the region and established leadership positions in each of the company's key markets in SE Asia. With a user base of over 1,000,000, Paktor has successfully matched users up over 20 million times.
NOT JUST A DATING APP
-------------------------------
Paktor launched in 2013, when our Co-founder and CEO Joseph Phua found himself single after a failed relationship. Since its inception, the app has been all about the romantic aspects of people meeting each other; its very name is the Hokkien expression for "going on a date".
As our company and vision progressed, as we learned more things, we realized that people meet other people at different parts of their lives. They can be at work, out with friends and drinking, at activities where friends invite new friends. Thinking larger, you can meet new people during every aspect of your life, and what we want to try to do is fulfill and serve those aspects within one platform.
To drive our mission of connecting singles in Asia, we have built an online app and an offline dating agency to promote the romantic aspects of people meeting each other:
PAKTOR – THE APP
----------------------
Leveraging our proprietary technologies and first-mover advantage, Paktor's flagship app has become the most successful social networking app for singles in the region. With one of the largest user bases in the region of over 5 million, Paktor has facilitated 5 billion profile reviews to date. We are poised to become the first company to provide a comprehensive suite of products to our users across the dating vertical, focused on creating value for various segments of our target audience, in the process ensuring maximum industry coverage and further dominance.
GAI GAI – GO ON DATES!
------------------------------
GaiGai (走街) is the new offline dating agency in Singapore that is wholly owned by Paktor. Headquartered in the sunny shores of Singapore, GaiGai serves to offer a physical channel of connecting people, particularly singles. Forget exorbitant prices, mundane events and awkward moments. We provide modern matching services which are focused on casual settings, great company, and low prices that make effective dating affordable to everyone.
The idea behind Gai Gai is to create a vibrant environment where we provide our members with the opportunity to interact with other members beyond their circle of friends and empower them with relevant social skills to be more approachable when meeting new people. In the long run, we hope to contribute to the local dating scene and foster opportunities for singles to interact in exciting and fun social settings around Singapore.
GaiGai is the largest offline dating agency by membership size and operations scale in Singapore that offers personalized matching services and singles' networking events. As a subsidiary of Paktor, we ride on the rising trend of mobile dating applications to bring singles together into real life dates. Our compatibility algorithm is also backed by neuroscience research and user behavioral study from over two billion swipes on Paktor. Come join us at GaiGai to help singles find their life partner
You can expect:
• Easy and fun culture,
• Start- up and young working environment
• Good career development opportunities
• Job Location: Central, Singapore
• Attractive remuneration and benefits
Responsibilities
Paktor is seeking an energetic and passionate Relationship Manager to join our offline dating team: GaiGai! Apart from meeting new people and helping singles find the love of their lives, you will also:
• Meet prospective clients; develop and maintain new client relationships (Note: We assign all leads so no cold-calling is required)
• Manage on boarding of clients and ensure superior client service to contribute to the overall client experience of the company
• Ensure prompt and accurate delivery of services to your client portfolio
• Coordinate between various divisions and products to offer personalized dating advice for clients

Requirements
You are someone based in Singapore who loves meeting new people and the passion for sales. You will go the extra mile to close the deal and you understand how crucial strategic planning is in securing a sale. Finally, you are also someone who constantly strives to achieve your quotas and believe that nothing is impossible.
• 1-3 years of sales experience with proven track record in sales
• Good client engagement ability (e.g. communication and presentation skills)
• Drive to succeed and focused to achieve the assigned sales quota
• Courage and ability to take responsibility in the whole sales process
• Good command of written and spoken English and Mandarin
• Ability to start immediately a plus
Other benefits:
Work flexibility (telecommuting), corporate insurance, sponsored gym membership, sponsored learning & development courses, sponsored overseas trips (to any overseas offices), sponsored computing equipment, monthly cohesion events, annual company trip
Click "https://paktor.bamboohr.com/jobs/view.php?id=23" to apply. Don't forget to fill up your profile so we can get to know you better :)
Basic info
Looking for
Other
Job type
Full-time
Company info
Founder
Joseph Phua
137 Cecil Street, #12-02, Hengda Building, Singapore 069537