Wanted! Customer Experience Representative To Solve Problems In Travel Industry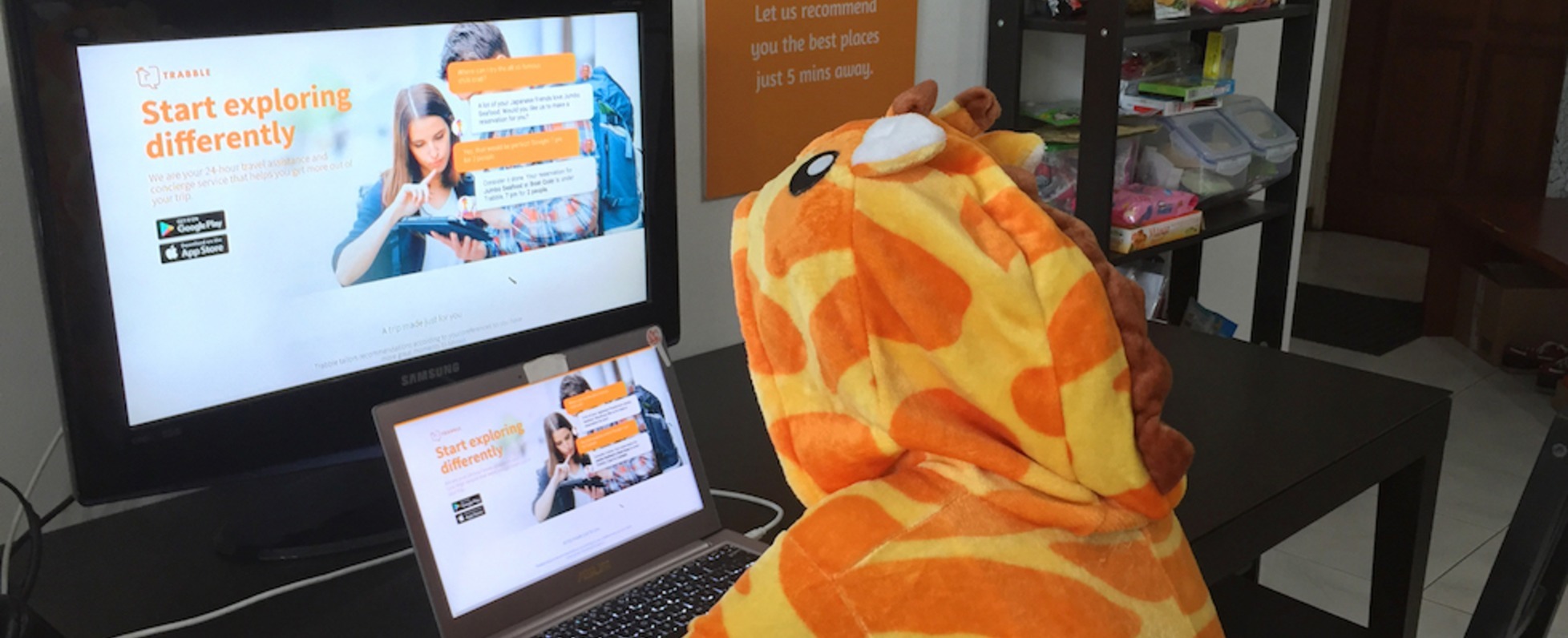 Low Jian Liang
Director/manager
WE KNOW YOU LOVE TO TRAVEL, AND SO DO WE
---------------------------------------------------------------
Who doesn't love to travel? After all, travelling is always an adventure, a getaway, a time for new experiences and friendships. But we have to admit that travelling can be extremely troublesome at times, when you get lost in a foreign place, unable to make decisions on what to eat or communicate with the locals due to language barriers – there are so many ways a trip can go wrong.
Trabble is a personalised chat-based concierge service; We answer travellers' questions real-time, provide travel services and recommend activities or places to experience, for their trip.
And just like most of the world's population, we are passionate about travel. We believe travelling should be easy as well as hassle-free, and so we came up with Trabble – redefining concierge services and your average search engine. With trabble, we seek to change how people travel and see the world - collaborating with the local travel industry, leveraging on local services and experts to provide answers that travellers need.
We aim to make travel hassle free and empower the travellers to explore without doubts. Be it for leisure, business, chasing bucket lists, or exploration; for everyone to travel with Trabble.
Trabble was conceptualized with founder, Jian Liang Low's friend, Joshua who runs the largest hostel accommodation chain in Singapore. Due to the increasing manpower costs of the front desk operations as well as a move towards self-check in automation, the idea for Trabble came about as a specialised mobile concierge service to provide a one-stop travel solution for savvy travellers who want quick access to recommendations and services on the go. We want to change the way people travel by giving them easy access to local resources and recommendations in a 24/7 chat-based concierge format.
Personal Assistant Solutions are becoming a normality, within the confines of locale and day-to-day needs and interests. Trabble pushes those confines, bridging cultures and countries. Integrating levels of chatbot and AI to better help travellers leverage on local knowledge, resources and services, presented to them in the format that best suits them.
MAKE A DIFFERENCE WITH TRABBLE
Just like Christopher Columbus, Marco Polo or even Mike Spencer Brown, you can too be an explorer right here at trabble to influence and create better travel experiences for travellers. As a young travel tech start-up in Singapore, we aspire to use tech solutions to create a seamless travel experience that serves an ever growing flow of travellers in this world that is becoming smaller. With Trabble, the only thing travellers need to worry about is how to have fun.
And so, Trabble invites you on board this journey with us to make a change to the world like how the famous explorers did, with a team who share the same love for travelling and exploration! We are looking for explorers like you to lead in Trabble's expansion beyond the Singapore travel platform and connect us with travellers all over the world.
As a young travel tech start-up in Singapore, we aspire to serve an ever growing flow of travellers in this world that is becoming smaller, with the use of tech solutions to create a seamless travel experience for all. We have the largest hosteliers as mentors, a first customer and a problem that awaits our solution. The next key is the execution.
And all we are lacking is you, an entrepreneurial core team member. Join us to make this happen.
YOUR RESPONSIBILITIES:
a) You'll try on many hats.
Start-ups are fast-paced and we work closely as a team. You will get to be exposed to multiple roles that you don't have the chance to in big firms. As a team, we work together to solve any problems and involve ourselves whenever and wherever we are needed.
At the same time, you are given lots of flexibility, space and opportunities for you to grow. Everyone on the team gets to learn on the job, a chance to lead and ownership over projects. We value every bit of contribution and we grow together as a team.
(b) As the Explorer (Customer Experience), your main responsibilities will be to:
- Assist in establishing partnerships and collaborations with local travel industry
- Assisting in identifying business opportunities through evaluating, researching and analysing positions of partners
- Understand hostel management processes and operations
- Representing Trabble as our ambassador and promoting Trabble to customers
- Observe day-to-day operations and assisting in any related ways
- Execute customer validation, speak to tourists and garner insights
- Assist in user testing and feedback
THE REQUIREMENTS:
Hospitality and tourism experience will be awesome. Linguistics students highly welcomed. :)
The main requirements to be a Explorer (Customer Experience) at Trabble are simple because we always welcome people who are willing to learn and have a strong passion for working in a start-up, especially one in travel.
Aside from that, we also prefer people who are:
- Strong interest and passion in working for a start-up
- Outgoing Personality
- Proactive and initiated
- Resilient and team-oriented member, with a strong sense of accountability and responsibility
- Fast learner, able to pick up new skill sets wherever necessary
- Able to work on projects independently
- Able to thrive in a fast-paced environment and be versatile
Click "Want To Visit" to apply. Don't forget to fill up your profile so we can get to know you better :)
Basic info
Looking for
Customer Service & Ops
Job type
Full-time
Company info
Founder
Low Jian Liang
Founded on
July, 2015
Headcount
12 members
Industries
Leisure