Regional OEM Sales Engineer to Support Business Growth in Asia Pacific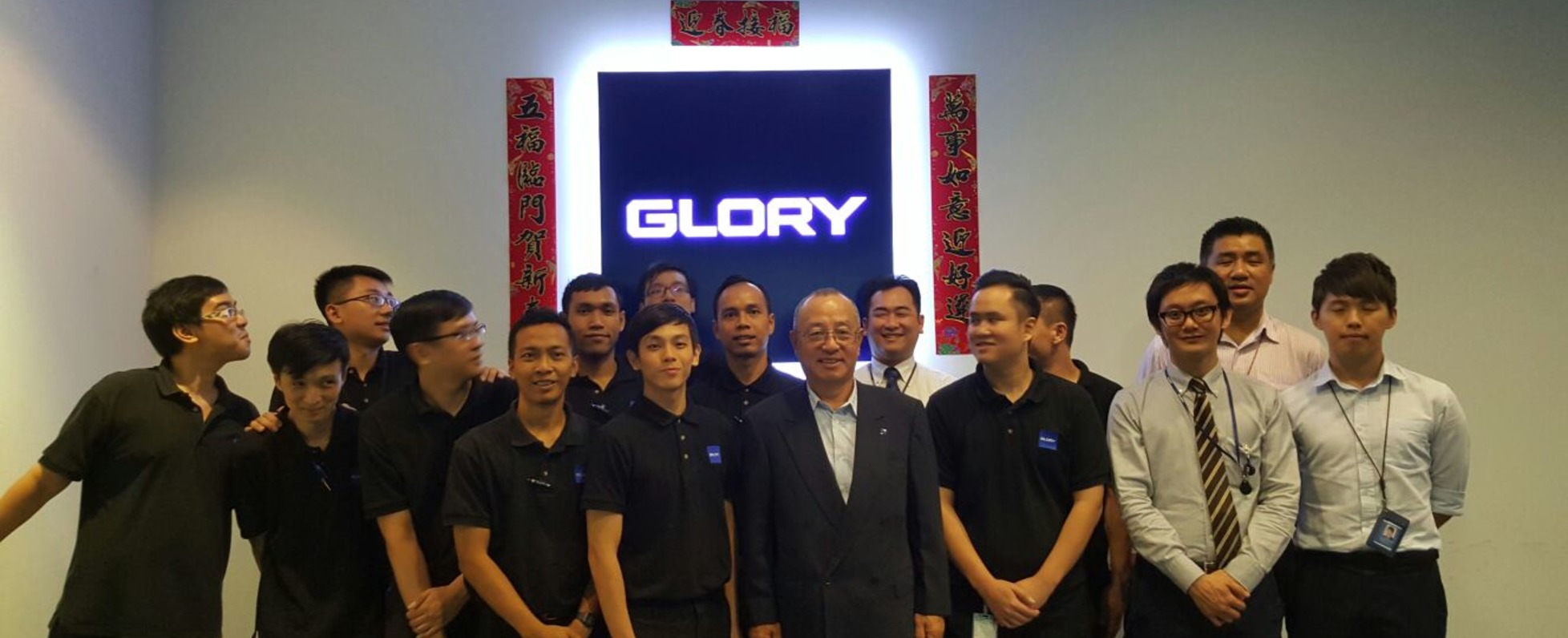 I believe in continual learning and making change for better. This happens in Glory.

I have been with Glory since 2001. Joining the company as QA Manager, side-tracked to IT and now in HR. Every change in my career track was a new learning journey and challenge, it is an exciting place for me....
Glory Global Solutions a global leader in cash technology solutions, we provide the financial, retail, cash centre and gaming industries with confidence that their cash is protected and always working to help build a stronger business.
We offer peace of mind. We enable transformation. We generate options. We empower people. We do all this by releasing companies from the burden of cash management, putting cash to work, and helping customers enhance the value that their staff and facilities add to their business.
Our cash automation technologies and process engineering services help businesses in more than 100 countries optimise the handling, movement and management of cash. While we span the globe, we personally engage with each customer to address their unique challenges and goals — enhancing staff efficiency, reducing operating costs and enabling a more rewarding customer experience.
This sales & business development role within OEM, will ensure the achievement of revenue and profit targets by the successful deployment of OEM solutions to existing and new customers; a key criteria for success will be recruitment of new customers and continued development of partnerships with target accounts, which will translate into a consistent and strong order intake, coupled with a robust growth of OEM opportunities in the Asia Pacific Market, currently one of the fastest-growing major economies in the world.
Responsibilities:
• Support and grow key accounts in the OEM ASIA Pacific market place, ensure OEM products are specified as the primary component for the customer & sell through key contacts, liaising with decision makers within the customers supply chain.
• Identify and prioritise customer needs & requirements and look for suitable Glory solutions.
• Support OEM customers with their end users to help specify the product throughout the whole decision-making process.
• Present the benefits of your recommendations in a successful sales proposition supported by data & cycle cost model.
• Develop and execute an account management plan with all customers to maintain a long-term win-win partnership.
• Actively identify and uncover all prospective OEM business opportunities, the expected value, and required resource to win and ensure GGS sales management fully briefed.
• Provide management with monthly feedback covering market development, product requirements, sales progress and any other issues to ensure (future) sales opportunities are maximised.
• Support the technical and sales functions in identification of prospective clients within the territory.
• Lead market analysis and prospect account surveys and targeting
• Contact prospective and existing client's technical staff to facilitate the evaluation process of GGS OEM products as defined by the OEM Head of Operations.
• Track the evaluation process of OEM products within prospective clients to successful completion.
• Ensure that evaluation units are available for all new products into the prospective client base, supported by the required technical documentation for integration into the client's solution.
• Identify and work all technical issues about product integration, enlisting support of GGS technical support staff as required to reach a successful outcome.
• Produce a weekly report on issues affecting sales development, actions required and status.
• Respond to technical enquiries from prospective and existing client requests
• Assist with annual tenders and support and manage supply chain issues tenaciously
Qualifications and Training
• The candidate will have extensive experience and ideally a background both in sales, pre-sales, post-sales & client facing solutions, consulting work surrounding the integration of hardware and software solutions in the ASIA B2B environment.
• Degree or equivalent in an engineering discipline, preferably Electro / mechanical
• Fluent in English; both written and verbal and local language
Basic info
Looking for
Regional OEM Sales Engineer
Job type
Full-time
Company info
Founder
Jusaku Onoe
Founded on
March, 1918
Headcount
60 members
Industries
Automobiles / Industrial Machinery / Electronics / Electrical Equipment
78 Shenton Way #27-02/03 Singapore 079120